What Is Toy Town?
Toy Town is the classic match puzzle game in which you earn tickets to be entered into the weekly prize draws. The more you play, the more entries you collect, and therefore, the higher your chances of winning!
If you don't consider yourself lucky enough to win sweepstakes like me, you can exchange tickets for cash and withdraw via PayPal. Just be aware that Toy Town tickets are worth very little money. Besides, you need to reach $10 to be able to cash out, which takes forever!
How Does Toy Town Work? 
WINR Games generates revenue from advertising, so they are just sharing back a portion of the profits with players.
Installation and Registration
Town Town is available on Google play and is available worldwide. After you install Toy Town on your Android device, you must create a WINR account using your personal email or Facebook account.
If you install any other WINR game, you can log in and accumulate tickets under the same account. It's great because if you get bored with Toy Town, you can play another awesome game like Daring Descent and earn more tickets.
How to Play Toy Town?
It's very simple! Toy Town is a match-2 game, so you must tap at least 2 identical touching blocks to destroy them. The goal is to pass the level by completing a specific target before you run out of moves.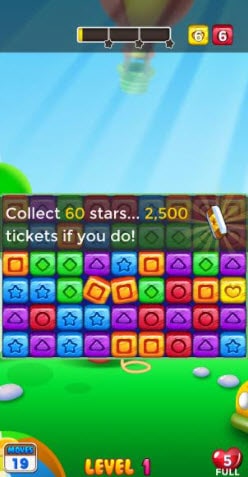 For example, at level 1 you must destroy only 8 yellow and 6 red blocks. Don't worry, it gets more challenging as you achieve higher levels! As you eliminate blocks, you will collect stars which impacts your score. At the end of each level, you will earn tickets according to your score.
For example, I scored 9 and won 15 tickets. Also, you will earn a significant number of tickets if you reach milestones. For example, when you collect 60 stars, you will get 2,500 tickets. If you run out of moves before reaching the target, you will lose a life. Once you use your first 5 lives, you must wait for 7 minutes to play again.
Prize Draws
Tow Town will automatically enter all your tickets into the next prize draw, which occurs twice or three times per week. Check the prize and the countdown to the teh next draw at the top of the screen. As of writing, WINR will give away $3,640 after tomorrow.
The odds of winning depend on how many entries you have and the number of tickets entered by every single player from all WINR games. The company says the average tickets per user is 1,708, but they don't mention the average number of players. Well, considering WINR has over 40 games, there are probably millions of users collecting tickets on a daily basis.
Can you imagine!? The odds of winning such prize are so low that many users prefer to exchange entries for very little money. It's actually not a bad idea! If you don't want to spend your tickets in the next draw, simply open the bank and deposit your tickets there.
Free Tickets 
Collect more tickets by watching short videos, completing offers and inviting friends.
When someone installs Toy Town and enters your invitation code, you will earn 2,500 tickets plus $0.10.
If you install another WINR game, you will get 5,000 tickets.
Enter my referral code and earn 2,500 tickets: F59UB. 
Watch a video and earn 100 tickets.
How to Convert Your Tickets to Cash?
Just open your wallet and tap on this icon to exchange $10,000 tickets for $0.10.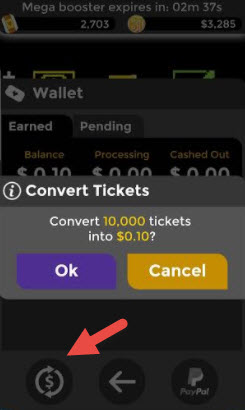 They will transfer the money to your cash balance, but you can only withdraw via PayPal once you have at least $10. As you can imagine, it will take ages because you need 1 Million tickets to cash out!
Is Toy Town Legit? Does It Pay? 
I can understand why you are skeptical of Tow Town considering that most game developers cheat on player big time! Money Games usually stop paying once you are very close to the payout threshold, making it impossible to cash out.
Toy Town is a legit app, but that doesn't guarantee that you will win money from it. It's possible, but things can go wrong and the company is not obligated to pay you. According to WINR's Terms of Use, the company may reject your payment request for any reason.
In their own words:
"Upon submitting your request for payment, WINR may, in its sole discretion, for any reason whatsoever, reject, cancel or terminate such request or payment, as applicable".
For example, some people reported their tickets disappeared from their accounts.
I checked lots of reviews on Google Play and struggled to find someone who received the $10. This tells me that making money from Toy Town is something very difficult to accomplish!
Is There An Alternative To Toy Town? 
I have exposed a ton of similar match-3 games that entice users wit $100 and even $200. They don't pay! This is the kind of app you should avoid. The only ones that actually pay are Bitcoin Blast, Bitcoin blocks, and Crypto Pop. The problem is that some players report making just 1 cent worth of BTC per day! So, if you wanna make money, don't even bother because they are not worth your time.
Instead, I recommend using a GPT site like Prizerebel where you get points for playing game offers. Points are credited only after you achieve a specific number of levels. After that, you must install and play another game. Some app developers pay a decent rate, and if you answer online surveys, you can bring in an extra $100 per month. 
=====================