Developer: JustDice GmbH
Minimum Payout: $1
Payment methods: PayPal and eGift Cards
Eligibility: Worldwide
What Is Lucky Miner App?
The Lucky Miner is a mobile application that rewards you for installing and playing addictive games on your Android device.
The Lucky Miner is owned and operated by JustDice GmbH (Formerly AppLike). They have dozens of similar apps such as Coin Pop, App Flame, and Cash Alarm.
With The Lucky Miner, you will get a list of suggested games you can install and play on your Android device.
Once you have earned a minimum number of coins, you can redeem them for cash via PayPal or gift cards.
Is The Lucky Miner Legit?
I don't think The Lucky Miner is a scam. I received the payment from JustDice when testing their flagship app, AppLike 2 years ago.
Many people receive payments too, but not everyone has a positive experience as I did. Besides, the fact that you managed to cash out doesn't mean that you won't have any problems in the future.
It seems like everyone experiences an issue sooner or later.
If you check the review section of Google Play, you will see that many people struggle with unexpected errors that the company doesn't solve.
Lots of reviewers complain that their accounts were flagged for suspicious activity. 

The problem is that the company doesn't tell people what they have done wrong.
Besides, they can ban your account if they think you are breaking the rules, but they don't need to tell you the specific reason.
Are they deleting people's accounts to avoid payments and increase profits? Well, only those who work for the company can tell you. But even if they are, that's not illegal. 
It's important to understand that Lucky Miner doesn't guarantee any winnings. According to their Terms of Service, you have no right to payouts.
Since you don't own any earnings inside the platform, they don't need to give you any explanations.
Pros And Cons
Pros
Earn money without doing any work.
It's available worldwide.
Earn 4000 coins as a signup bonus.
It doesn't take long to reach the first minimum payout threshold.
Cons
Low pay rate.
There are not many games in most countries.
The more you play a game, the longer you have to play to earn the same number of coins.
How Does Lucky Miner Work?
Lucky Miner gets paid by app developers to advertise games on their platform and encourage users to play.
A portion of this revenue is passed on to users as an incentive for discovering and playing games.
Although the games are free, players can make in-app purchases to get additional features.
That's how app developers make profits and can afford to advertise on Lucky Miner.
Installation and Registration
The Lucky Miner is available for free on the Google Play store.
After the installation, they will ask permission to collect your data such as your name, date of birth, and gender.
Next, you should grant them access to your usage data so that the Lucky Miner can monitor your gameplay and give you coins based on your playtime.
Tap on "grant," select Lucky Miner from the list, and activate "allow usage tracking."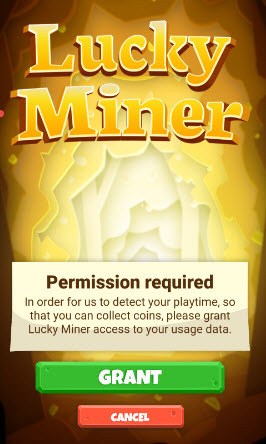 Signup Bonus
You will earn a bonus just for installing and registering with Lucky Miner. This bonus will help you reach your first payout threshold quite fast.
The signup bonus depends on your country. In the UK, it's 5555 coins, which is approximately £0.43. Here in Brazil, it's 4000 coins or R$1.
Earn Coins
With Lucky Miner, you will get a list of suggested games you can install and play on your Android device.
It shows you the number of coins you will get per minute of gameplay.
For example, this game called Cats was awarding four coins per minute.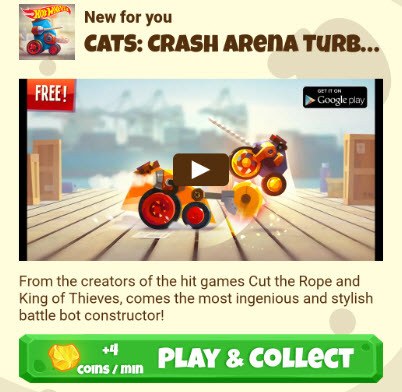 It's crucial to understand that each game can only award you a limited number of coins.
So, the more you play a specific game, the fewer coins you will earn per minute of gameplay.
For example:
In the beginning, I had to play Cats for 127 seconds to get five coins. But after 10 minutes, I had to play 571 seconds to earn the same.
At some point, you realize it's not worth playing the same game anymore because the pay rate will become insignificant.

You may think Lucky Miner is cheating, but that's not the case.
It would be awesome to get an unlimited and steady flow of coins, but that would be prohibitive to advertisers.
They have a small budget to spend on each player, and that's why there is a limit on how much you can make per game.
The only thing you can do is to install and play a new game to make it worthwhile.
In my opinion, Lucky Miner should be upfront and warn people about the limitations of using this app. Otherwise, users may have unrealistic expectations.
Invite Friends
Another way to earn coins is by promoting Lucky Miner on the internet or inviting your friends to join through your referral link.
You will get 250 coins per referral, plus 25% of all your referral's earnings.
In turn, your referral will receive 25% of all the coins that you earn, which is pretty cool!
To refer someone, tap on this orange button and then on "Invite."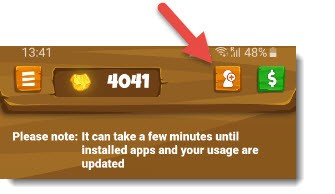 Then, select everyone you want to invite, and Lucky Miner will attach an automatic message with your referral link.
How Much Money Can You Earn With Lucky Miner?
Regardless of your country, you should not expect to earn a lot of money.
Not many games are available, and it takes a long time to collect enough coins to cash out.
A user said if you play a lot, you could potentially make $10 in a week.
If you get many game suggestions in your country, I think you could reach $10 within 1 or 2 weeks.
You will probably have more opportunities if you like in the United States, Canada, and the UK.
How Do You Get Paid?
You can redeem your coins via PayPal or gift cards when you reach the minimum payout threshold.
In the UK, the minimum is only £0.50, easily attainable after playing your first game for a couple of minutes.
Is There Any Lucky Miner Hack?
Some people search for Lucky Miner hacks that could potentially increase their earnings.
There are different strategies that techie people use to exploit mobile applications, such as Fake geocode sources, bot farms, and click injection.
I have no idea how these methods work. But I know that Lucky Miner has robust mechanisms to prevent fraud. So it's not easy to hack the system!
=====================