What is TapCent and what does it offer?
TapCent is a GPT (Get-Paid-To) app that will reward you for answering surveys and playing their featured mobile games. It is indeed a legit app because you will really get paid for participating in the earning opportunities it offers.
However, this fact doesn't automatically mean TapCent is worth it. The first step to figuring out if it is worth your time is to understand how it works, so you will know how much time and effort is required to earn.
So, here's how to earn from TapCent.
Option 1 – Paid surveys
One way to earn from TapCent is by answering their paid surveys. However, it is important to note that TapCent doesn't provide its own paid surveys. Instead, it has partnered with a couple of survey routers so it can provide paid surveys for its members.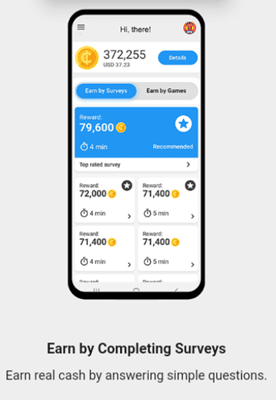 The first thing you have to do is complete your profile. Once you've done that, the survey router will be able to identify which paid surveys to offer to you. If there are surveys available, just click them and answer the qualifying questions.
When you finish the qualifying process, and you qualified, you get to answer the actual survey. If you fail to qualify, you just have to move on to the next survey available.
The one thing I noticed about this earning opportunity is that the paid surveys available will depend on your location. When I was testing the app, there weren't a lot of surveys available, and I failed to qualify for all of them. So, don't expect to answer surveys regularly.
Once you complete a survey, you will receive a certain number of coins as a reward. Later, I will explain what you can do with the coins you've earned.
Option 2 – Playing games
As mentioned earlier, you will be able to earn rewards by playing games. To be more specific, you will have to play other mobile games.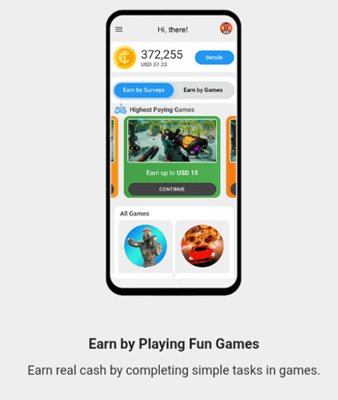 When you log in to the TapCent app, you will immediately see all the available games you can play to earn rewards. Just press the game you want to play, and it will take you to the app page, where you can download and install the game.
Once it is installed, just go back to the TapCent app and press the game you just installed, or you can also just open the mobile game directly from your mobile device's menu. Then, just play the game like you normally would, and you will earn coins every time you finish a level.
What's unique about this earning opportunity is that with other apps that offer the same thing, you'd have to go through the app to open the game. But as you can see, with TapCent, you can just open the game directly from your device's menu, and you will still be able to earn rewards.
But the annoying part of playing any game featured by TapCent is that for every level you complete, you will have to watch a video ad before you can proceed to the next level. It's quite annoying because the ads can take up to a minute to finish viewing.
Sometimes, it will take longer for you to finish watching a video ad than to complete a level, so it's definitely a waste of time, in my opinion. But you can't really do anything about it.
Option 3 – Referral Program
Lastly, you can also earn coins through TapCent's referral program. All you have to do is go to the Earnings section of the app and press the "Invite" button at the bottom. Then, press the "Share Invitation Link," and it will ask you how you want to share your invitation link.
The options that will be provided will depend on the communication apps that you've installed. For example, if you installed Facebook Messenger, then you will be able to send the invite via that app.
Once the person you invited clicks the link, installs the app, and registers as a member, you will earn 4,500 coins. It's a relatively easy requirement to meet, but the problem with this opportunity is that TapCent is not an app I would personally recommend to my friends. Later, I will explain why.
How do you get paid?
As explained above, you will earn coins from the earning opportunities TapCent offers. But what can you do with the coins you've earned?

Well, you can exchange them for cash, but the options will depend on where you are located. When I was testing the app, the options to cash out were PayPal and direct bank transfer.
The payout threshold will also depend on where you are located, but for me, the threshold was $25, which is quite high. This, in my opinion, is a major downside of TapCent. It will take quite a long time before you will be able to withdraw your earnings.
How much money can you make?
For a GPT app, TapCent surprisingly offers very few earning opportunities. But in my opinion, the main drawback of TapCent is that the rewards it offers are very low. After almost an hour of playing games, I only managed to earn around $0.50, which is a very low rate, in my opinion.
The paid surveys offer higher rewards, but as I've mentioned earlier, they are few and far between, so it's not something you can rely on for rewards. You'll have to spend a lot of hours playing games just to reach the payout threshold, which, in my opinion, is not a good use of your time.
Who can join TapCent?
There's no information inside the app or on the website about which countries it is available in. But from what I can gather, TapCent is available worldwide.
To find out if it is available in your country, just search for it on the Google Play Store. If it appears in the result, then it is available in your country.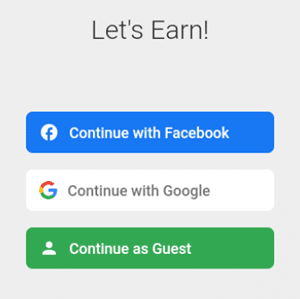 To sign up, you must first install the app. Then, when you open the app for the first time, you can choose to log in using your Google or Facebook account. You can also choose to provide your own login details. Once you are done with the registration process, you can log in to the app and start earning.
Can you get support?
If you have any questions about the app or your account, you can check out the FAQ page first. It discusses most of the basic topics you need to know.
But if you can't find the answers you are looking for, you can send your inquiry using the contact form provided by the app. Just press the message icon found on the lower right-hand corner of the screen and fill out all the required fields.
Overall, I would say TapCent provides decent support for its members since you will be able to communicate with their support team conveniently.
Final Verdict
TapCent is a GPT app that will allow you to earn rewards by answering surveys and playing mobile games. It has a couple of decent features, but it also has some limitations you need to take into account.
To wrap up this review, let me summarize its pros and cons so you can see an overview of what TapCent offers. Then, you can decide if you should go through with using it or not.

Pros:
Offers payment via PayPal
Available worldwide

Cons:
Limited earning opportunities offered
Very low rewards
Only available for Android devices
In my opinion, TapCent is not an app worth your time. The main reason why I say this is because the earning potential is very low. It will take quite a long time before you will be able to earn a decent amount from this app.
You are better off spending your time on apps or sites that have a better earning potential. That way, you won't have to invest a lot of time to earn a decent amount.
========================