only allow residents of United States and Canada to participate in Quickrewards.
What is QuickRewards?
QuickRewards is a GPT (get paid to) website where members can make money for completing a variety of tasks such as:
Taking online surveys.
Completing offers.
Playing games.
Printing grocery coupons.
Watching videos.
Shopping (cash back).
The site doesn't have a fancy look and it's quite messy, to be honest. However, there are many opportunities to make money, and that's what really matters.
QuickRewards is only available in 3 countries: United States, United Kingdom, and Canada.
If you don't live in one of these countries, you will be allowed to log in and complete tasks, but you won't receive your payment.
Pros and Cons
Pros
It's free to join.
There are lots of ways to make money and lots of opportunities.
There is no minimum payout threshold via PayPal.
Cons
You can't exchange tokens (Quickpoints) for cash.
Not very user-friendly.
Tokens can only be redeemed for magazine subscriptions and movie tickets.
No automation – Some tasks require you must submit a confirmation email to receive credit.
No referral program (coming soon).
How Does it Work?
Signing up with QuickRewards is free and pretty much straightforward.
All you need to do is fill up the form and select at least one program, so they can customize the type of emails you will get.
You can unsubscribe from these emails at any time after you become a member.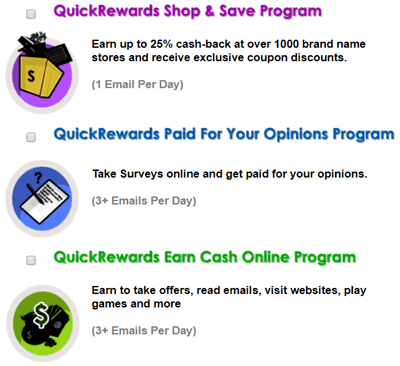 Once you log in, you will come across a list with the latest opportunities, mostly surveys, and offers.
They also show you how much money you will get for each survey or offer.
Some links, such as Toluna Survey Router and SurveySample Router are fixed as their surveys can be done daily.
When you complete any task, you will earn either cash or Quickpoints.
Unfortunately, you can only redeem points for prizes, not PayPal.
Take Online Surveys
You can find the complete list of surveys on the main menu.
There are many opportunities available divided into different categories such as Daily Survey Routers, Targeted Surveys, Virtual Panel Surveys, and Clinical Surveys.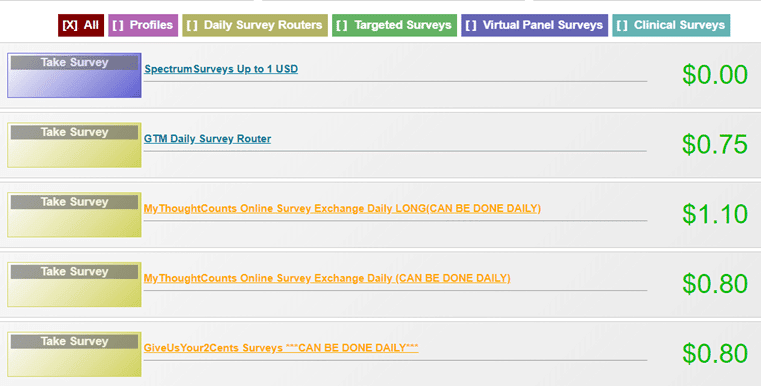 Before you start taking surveys, complete your profiling survey to ensure maximum opportunities.
QuickRewards is not a Survey Panel. Therefore, they will direct you to different marketing research companies like Toluna, Samplicio.us, GlobalTestmarket, etc.
While taking surveys, it's important not to rush through questions as they have mechanisms to detect "straight liners."
For example, they have Quality questions that have only one answer to make sure you are reading everything. If you answer questions too fast or incorrectly, you will not get compensated.
One important information that is missing is the time required to complete a survey. Without knowing how long it takes (approximately), you can't estimate your pay rate.
From my experience, most surveys will pay you a less than $2 and last for 10-20 minutes on average.
You should also take into account the time you will spend on the pre-qualifying questions.
It's not uncommon to get rejected after a few minutes, and when that happens, you probably won't get paid.
Complete Offers
QuickRewards allows you to get paid for completing different types of offers. Some of them are free signups to websites, while others require a deposit.
You should read the description carefully and follow all the requirements to receive the credit.
Besides, depending on the offer, you will be asked to send an email with the order confirmation.
The payout is usually low for free offers, and I bit higher for paid ones.
Just be careful because sometimes offers pay less than the deposit you need to make.
Shopping
The shopping section allows you to earn cash back (1% – 10%) on purchases made through QuickRewards.
There is a massive list of product categories and companies that you can browse.
If you need to buy something online, you will probably find a company that is offering a cashback.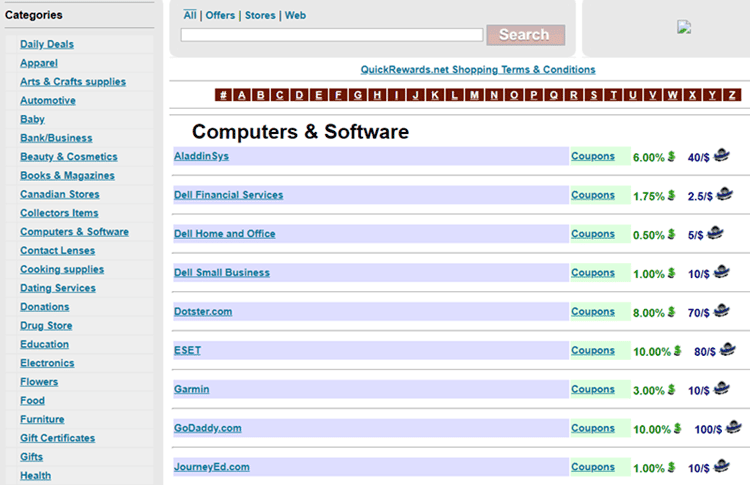 All you have to do is select the company, click the button "start shopping" and purchase any product on the merchant's website.
Keep in mind that some cashback offers require a minimum spend.
Print Grocery Coupons
You will earn $0.05 for every coupon printed and redeemed from coupom.com. Then, you need to email the support team to receive payment.
Play Games
Earn 25 points for every game that you play for at least 1 minute.
Remember, points can't be exchanged for cash, and the redemption options are limited to magazines and movies.
 Watch videos
Quickrewards connects you with a couple of companies so you can earn QuickPoints for watching video ads. Some of them are Smores.tv, Engage.tv and VideoLoyalty.
Payment
There are many payment options to choose from including PayPal and a variety of gift cards (Amazon, BestBuy, Wallmart, Wendy's, and more).
What sets Quickrewards apart from the other GPT sites is that you can cashout any amount via Paypal.
That's right. There is no minimum requirement!
For gift cards, minimum requirements depend on each company.
For example, you will need at least $5 to redeem via Amazon gift card.
As for Quickpoints, you can only redeem via magazines memberships and movie tickets.
========================