Sorry, Qmee is currently only available in the United States, United Kingdom, Canada, Australia, France and Germany
What Is Qmee?
Qmee was launched in 2012 as a web application that only rewarded members for performing searches on Google, Bing, Amazon, and other online stores.
Nowadays, Qmee allows you to complete paid surveys and share your opinions with marketing research firms.
Qmee has been growing exponentially in the US and the UK, and it is not difficult to understand why. It provides lots of surveys, fast payouts, and most importantly, they don't block your account for no reason.
Is Qmee Legit? Does It Pay? 
Qmee was one of the first sites that I used to make money online back in 2015. Since then, I have cashed out through PayPal countless times and never had any issues.
Here is a screenshot of one of my recent payments:

The company has been featured on Forbes, CNNMoney, and other important media outlets. Therefore, you can rest assured that Qmee is a reliable platform.
Qmee has been rated 8.5 out of 10 on Trustpilot, which is excellent. The Qmee app has also built a solid reputation on Google Play (4.4 stars) and App Store (4.5 stars),
Some people report earning a decent amount of money within a short period. For example, £5 in 2 days, $150 in 2 months, $50 in 2 weeks, and £70 in one month.
Most people think it's a great platform and highly recommend it!
Pros & Cons
Pros
No minimum cashout amount.
Fast payment through Paypal and Gift Cards.
Reliable and transparent.
Qmee is available on Desktop, Android, and iOS devices.
Excellent customer service.
Cons
Low pay.
Qmee is only available in the US and the UK.
Some surveys are only available on desktop devices.
Registration – Earn 50p
You can create an account via the official website or the Qmee app, which is available on Google Play or App Store. The registration is free and straightforward!
If you sign up through my affiliate link, you will get 50p after you make your first PayPal cashout.
Bear in mind that you're only allowed to open one Qmee account per household.
After signing up, I advise you to click on your profile and complete the challenges to get the most out of Qmee. If you are planning to take part in marketing research studies, I recommend that you complete your survey profile.
The more questions you answer, the better the company will be at finding the right surveys for you. You can also allow Qmee and its partners to use your device identifiers to get more invitations.
Earn Money By Taking Surveys
Qmee has partnered with leading marketing research companies to provide you with the best survey experience. Some of their partners include Toluna and Samplicio.us.
When you log in, you will see a list of all the currently available surveys.
I like Qmee because they estimate the survey length based on how long other Qmee users take to finish the survey.
On average, most surveys take 10 – 15 minutes and pay less than £1.50.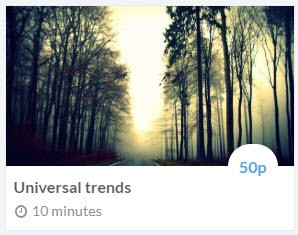 Many surveys are not available on mobile, so you can make more money by using your desktop.
The key problem with surveys is that you will spend a lot of time answering repetitive questions only to get disqualified.
Always answer the questions honestly, so Qmee continues to provide more surveys that are relevant to you.
I was reading some recent threads about Qmee on Reddit, and one person said he completed just one survey out of 10. So, you can waste a lot of time!
Some people seem to have more luck while completing surveys. One person claimed he is making over £100 per month with Qmee! 
Cashback Offers
Qmee also allows you to get cashback on services and products that you purchase through the app or website.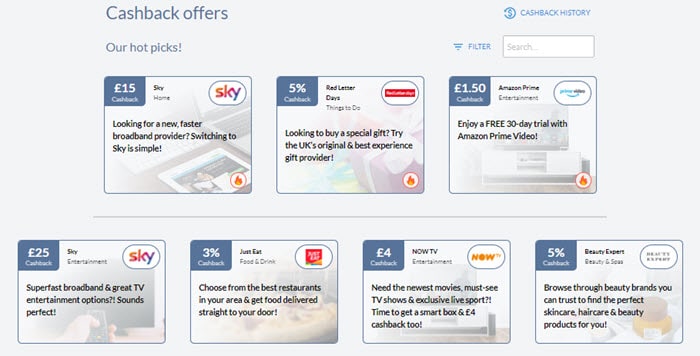 Here are some opportunities available in the UK:
Red Letter Days: Earn 5% cashback when you shop with Red Letter Days.
Just Eat: Earn 3% cashback on your first order.
Beauty Expert: Earn 5% cashback when you shop with Beauty Expert.
You will also find lots of free trial offers. Here are some examples in the UK:
Audible: Earn £2 cashback when you sign up for a 30-day free trial with Audible.
Amazon Prime: Earn £1.50 cashback when you take out the free 30-day trial.
Now TV: Join NOW TV Broadband and earn £30 when you sign up for a Fab or Super Fibre 12-month contract.
Always read the terms of service before accepting any deal. I also advise that you read the section where they explain the reasons you wouldn't receive the cashback reward.
Invite Your Friends
Another way to earn money with Qmee is by sharing your affiliate link with your friends. When the person signs up using your link and cash out, you will get £1.
You get to choose what happens to your commission. There are three options:
Keep 100% to yourself. How greedy! Joking… 😛
Share 50p with your friend. Fair enough!
Give £1 to your friend. You are amazing!
Does Qmee Respect Your Privacy?
When you click on the ad to earn cash, they will also collect information about how you behave on the advertiser's website. For example, they will know which link you visited and for how long you stayed on that page.
In my opinion, I think this is not a big issue. After all, our internet activity has been tracked for years without your authorization, and for free!
Nevertheless, companies should always comply with regulations and respect our privacy. Qmee claims that it doesn't share your data with anyone else without your permission.
If you check Qmee's Privacy Policy, you will notice they have taken the right steps to comply with GDPR, which sets high standards for data protection and privacy in Europe.
Qmee is very transparent regarding all the data that will be collected from you and why they are collecting them. As importantly, they give you the right to delete, access, and correct your data.
How Do You Get Paid?
Qmee allows you to cash out via PayPal and Gift cards.
Paypal
I really like Qmee because there is no minimum payout threshold! This is amazing because you can withdraw any amount (even £0.01) anytime you want.
Most reward sites and apps require that you reach $5, $10, and even $20 before you can request the payment. Therefore, a large percentage of members give up on their rewards and end up working for free.
I also need to praise Qmee for their fast payment! Usually, the money will be transferred to your PayPal account in just a few minutes.
Before you get paid, don't forget to link your Paypal account in your profile area.
Gift Cards
You can also withdraw the money via Amazon, Starbucks, and iTunes gift cards. The minimum cash out amount is $5 in the US and £5 in the UK. After you request the payment, the code will be sent to your email within just a few minutes.
======================