What Is Points2Shop?
Points2Shop is a GPT (get paid to) site and mobile application that allows you to complete many tasks for virtual points.
Launched by P2Sample LLC in 2007, Points2Shop is one of the oldest GPT sites that stood the test of time. The company also operates a reward website called Survey Rewardz, which is focused on online surveys.
As a member, you can collect points by sharing taking surveys, installing apps, playing games, watching videos, and more. Then, trade your points for PayPal and gift cards once you have reached the minimum payout threshold.
Points2Shop is available worldwide, but US, Canada, and UK residents will get more opportunities. The reason is that there are more advertisers and market research companies in those countries.
Regardless of your country, you can make more money online if you create your own online business.
Is Points2Shop Legit? Does It Pay?
Points2Shop is a legit GPT site, but there are many negative reviews on the internet. Besides, there is a risk of not getting compensated for your hard work.
Lots of users reported that the site blocked their accounts as soon as they tried to redeem their points. As a result, they couldn't receive the money they worked for.
We will never know the true cause of each ban because there can be many reasons. For example, Points2Shop doesn't allow users to use VPN or create multiple accounts.
However, many users are furious because the company banned them for no apparent reason, and is not willing to tell why. Not only that, but people also complain about missing points and payments.
At Sitejabber.com, Points3Shop has been rated 3.3 stars by 144 reviewers, meaning most users are satisfied. Besides, lots of people received their payments.
The problem is that negative reviews weigh more than positive ones in this industry. The reason is that no one likes to work for free!
I am not saying that you will experience account or payment issues while using Points2Shop. However, there is always a level of risk when you rely on third-party platforms.
Registration
The registration coudn't be more straightforward! You just have to provide your email address, username, and choose a password.
Alternatively, you can sign up with Facebook with only one click. However, I don't recommend using this method because you may have problems while trying to cash out later.
Next, you will receive an email from Points2Shop with an activation link. Click on the link to confirm your email, and you are good to go!
If you want o use Points2Shop on your mobile, you can do so by downloading the Android or iOS version on Google Play or App Store.
The signup process is identical, and you will win $0.10 for installing the app.
Earn Points
First, it's important to mention that 1 point is worth $0.01.
When you log in to Points2Shop for the first time, you may feel overwhelmed by so many ways to make money.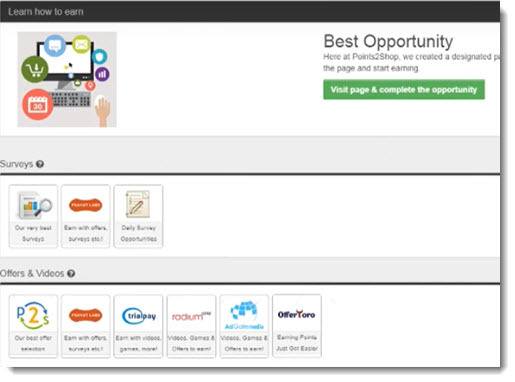 On your dashboard, you can see all the options divided into different categories such as
Surveys
Offers and Videos
Mobile
Game and Competition
You can also click on the "Earn Points" drop-down menu where you can find all the same opportunities.
Next, I am going to explain each category so you know what you can expect in terms of tasks and rewards.
1. Surveys
In this section, you will find a list of different survey routers where you can share your opinions in return for points.
All you have to do is select the survey provider, and start answering qualification questions.
The problem with surveys is that if you are not a good match, you will get disqualified and redirected to another opportunity.
Chances are you will waste a significant amount of time just to qualify for a handful of studies. But there are no shortcuts, I'm afraid!
The best approach is to read all the questions carefully and always provide true answers, even if you think they will disqualify you.
2. Offers and Videos
In this category, you will find a list of different offer walls operated by third-party companies such as OfferToro, AdgateMedia, TrialPay, and more.
Each platform provides different offers that you can complete in exchange for points.
You can earn anywhere from a few cents to over $5 depending on the offer!
Some offers require a simple sign up while others will ask for your credit card and contact details.
There are also offers that require a deposit.
Give preference to offers that don't require any credit card details or deposits. Most free offers don't pay well, but at least you won't lose money in case P2S blocks your account.
Also, you don't want to spend money on services you don't need just because you forgot to cancel the monthly subscription.
Speaking of subscriptions, you should not cancel the service immediately after completing the offer. Otherwise, you run the risk of not receiving points.
Be aware that you should not complete the same offer that you may have found in other reward platforms. Otherwise, you will just waste your time because you will not get credited twice.
Inside some offer walls, you can also earn points for watching videos. The most popular and reliable video platform is called Hideout.tv.
3. Mobile
Another way to collect points is by downloading and using mobile apps on your smartphone.
If you want to earn points in this section, I recommend using the Points2Shop app instead of the website.
Most app offers require that you install and play sponsored games until you reach a specific level.
4. Weekly Sweepstakes
Depending on how many points you have, you can enter weekly sweepstakes where you can collect more points and rewards.
The more points you earn, the higher your chances of winning.
5. Games
Points2Shop allows you to play games and bet your points in the competition. If you are good at playing games, you can earn a decent number of points here.
Referral Program
You can also take advantage of the Points2Shop affiliate program, which pays $3 plus 15% per referral.
All you have to do is share your affiliate link with friends and family. To get more referrals, I suggest that you share your link on social media, or better, create a blog to promote the platform.
The downside of Points2Shop's referral program is that you won't get the commission until your referral reaches $3 by answering surveys.
Once you become a Diamond member, you will earn 30% of all the points your referral earns, which is amazing!
How Do You Get Paid?
In the past, Points2Shop members could cash out with as little as $1 via PayPal. However, the minimum payout threshold has been lifted to $5, which is still ok!
The payment options currently available are PayPal, Check, and gift cards.
To receive the payment, click on "Spend Points", choose your preferred payment method, and click "withdraw".
Make sure your PayPal address or home address is correct, so you don't lose your points.
Now, the bad news is that the company will ask for a copy of your ID and proof of address before you can receive the payment.
You can find this specific requirement in the Points2Shop Terms of Service. However, most users get taken by surprise because they didn't read about their responsibilities on that page.
Some people don't feel comfortable submitting personal documents such as driver licenses and utility bills. However, this is probably just a security measure to protect the company against fraudulent accounts.
After you request your payment, you can expect to receive the money within two working days.
Pros And Cons
Pros
The minimum cashout is $5.
Get paid via PayPal, gift cards, and check.
You can download the Points2Shop app and complete tasks from your Android or iOS device.
There are lots of earning opportunities, especially if you live in the US, Canada, or the UK.
There is a chat available where you can interact with other members and ask for help or advice.
Promising affiliate program.
Cons
The company has a track record of blocking user accounts.
There is a risk of not receiving points after completing offers.
It can be hard to qualify for surveys.
You must provide your identity and address proof to receive your payment.
========================