PlaySpot App Review 
Name: PlaySpot
Website: https://www.playspot.io/
Company:  SBA GmbH
Type: Get paid to play games
Income potential: low
Price: Free
What Is PlaySpot?
PlaySpot is advertised as the #1 Rewards app where you can make money for playing the games you love.
It's also possible to earn money by watching video and completing offers.
Over 5 million people have already downloaded PlaySpot in hopes to earn easy cash from their phones.
With this app, you will collect coins you can redeem via PayPal cash, Amazon vouchers, Google Play vouchers, and even bank transfer.
1000 coins = $1 or £1. 
PlaySpot is only available for Android devices, and it's very similar to Cash Alarm, MistPlay, and AppStation.
However, I found that PlaySpot games are much more fun and addicting!
The Knives and Blocks are probably the most popular games on the list.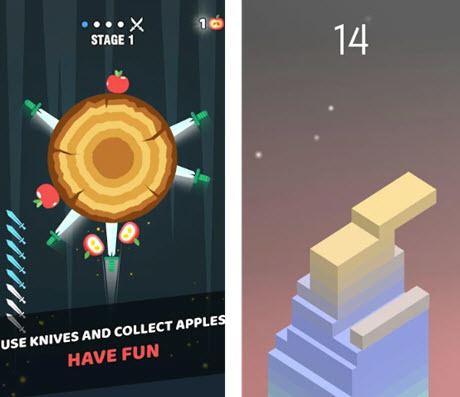 Is PlaySpot A Scam?
I am confident that PlaysPot is not a scam, but it's important to understand that it doesn't guarantee you any profits. 
Even though the app has been rated 4.3 out of 5 on Google Play, I found many complaints!
Lots of people seem to get an error when trying to cash out the minimum balance of $20.


Other users report missing points after playing or reopening the app.
Imagine playing games for weeks or months on end, and not get the reward you deserve!
Some people claim that they were able to cash out, but not many!
Therefore, PlaySpot is not an app that you should use if you are serious about making money online.
If you already play games for fun, then it doesn't hurt using PlaySpot to rack up points and hopefully earn some cash in the future.
However, you should not expect to earn any money from this company.
Pros And Cons
Pros
Fun games!
Earn $5 as a sign-up bonus.
Depending on your country, there are lots of games and offers.
Cons
Games decrease your pay rate over time until you don't earn anything at all.
The minimum payment is $20, which is pretty high!
There are too many ads.
Many people report errors when they try to cash out.
There are many complaints about missing points and payments.
The offer section is not updated regularly.
How Does PlaySpot Work?
Installation and Concent
PlaySpot is available for free on the Google Play app.
After installing the app, the company will ask your permission to access your device data.
You can't earn coins for playing games if you don't give consent.
The reason is that, without having access to your data, PlayStore can't track your game progress.
Also, they won't be able to show you relevant ads and optimise the app's mechanics.
You will receive a sign-up bonus of  5000 coins or $5 USD.
Registration
Different from other apps, PlaySpot doesn't require any registration to start playing and collecting points.
But beware! If you don't register, you will lose all your points in the event that you uninstall the app or replace your device
To register, scroll down until you find a section called "More Ways to Earn".
Then, you will find the option to login with Facebook.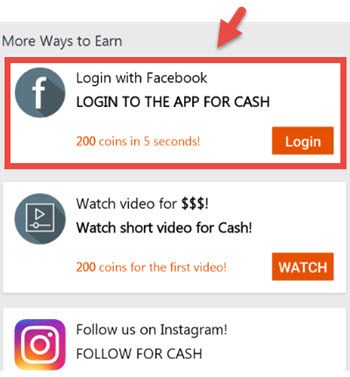 You will earn 200 coins just to register!
Playing Games
PlaySpot will show you a list of games that you can download and play to make money.
There are many games available, especially if you live in the UK or the US.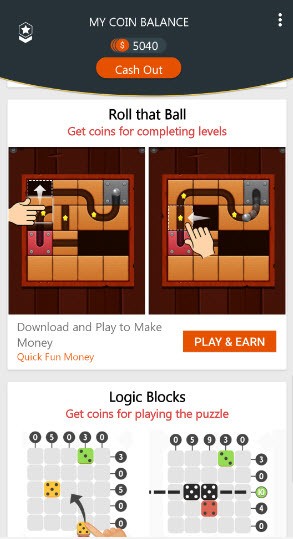 Unlike other similar apps, SplaySpot doesn't tell you the number of coins per minute of gameplay.
The reason is that your earnings are not constant.
Unfortunately, the more you play a game, the fewer coins you will get per minute.
To get started, choose a game from the list, download it and start playing!
While you are playing, PlaySpot is going to show you your balance update every time you collect coins.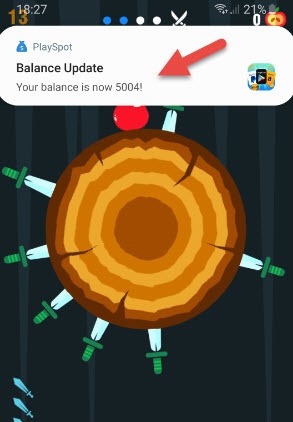 These games are very addictive, but they have too many ads!
When the game is over, or even during the gameplay, they force you a commercial down your thoat. 
It's very annoying to be interrupted frequently by videos that last 30 seconds or more!  
You can remove the ads by paying a small fee to the game developer.
How Much Money Can You Make? 
It's impossible to predict how much money you can earn while playing a game.
I was playing Knives for about half an hour and made around 2000 coins or $2.
That's not bad at all!
However, I noticed that the more I played this game, the fewer and fewer coins I was getting.
The truth is that there is a limited number of coins that a user can collect per game.
At some point, you have to download another game to keep racking up coins. Otherwise, you will get stuck!
This is what a user said about his experience using PlaySpot:
"…this is still my first week, and I noticed today that my balance went up by 1 point after 5 games won and 15 videos, when it previously gave 30 points per level won. Not worth the time!!"
This user claims that she barely made 500 coins ($0.50) after playing for 12 hours. That's inconceivable to me!

According to PlaySpot, the more you play, the more you earn.
But…
As you can see, that is only half of the truth because you can only earn more if you switch to another game.
Other Ways to Earn Money With PlaySpot
You can collect more coins by completing simple offers as well as watching short clips.
Offers
The offers section is quite extensive, at least in the UK.
Each offer has different requirements. Most of them are entirely free, while others require a deposit.
Here are some high-paying offers I found while reviewing PlaySpot:
Mistplay: Choose a game in the mixlist and start playing. Collet units and redeem for rewards. + 878 coins.
Board Kings: Play the game and reach level 4. + 2,107 coins.
Slotomania Slots: Play the games and reach level 30. + 5,091 coins.
King of Avalon: Update your Stronghold Castle to level 12 to collect rewards. + 5,266 coins.
This guy was able to cash out $20 quicker by completing a couple of offers.

If you just earn coins by playing games, it will probably take you months to cash out!
Therefore, downloading and using third-party application can help you reach the $20 payout faster.
The problem is that the offer section is not updated regularly. So, it can be significantly more difficult to cash out for the second time.
Videos
You will get 200 coins after the first video and then 10 coins per video afterward.
I don't think PlaySpot is a great way to earn coins because there is a limit of 1 video every 2 minutes.
The best platform to get paid for watching videos is probably Hideout.tv, which you can find in some GPT sites like Prizerebel and Offernation.
Both sites will also give you an incredible number of offers and surveys that can earn you $100+ per month. 
PRO Level
Once you reach 9000 coins, PlaySpot will upgrade you to the PRO level, which means you will get higher payouts and new offers.
Cash Out
Once you collect enough coins, you can request your payment via PayPal, bank transfer, Amazon, or Google Play vouchers.
The minimum payout threshold is currently $20 (20,000 coins), which is quite high.
You can cash out a higher amount for a better conversion rate.
However, I advise you to redeem your coins as soon as you reach $20 because you never know what the future holds.
==========================