Are you looking for ways to profit from the Internet daily easily? There is a site called Peer2Profit where you can earn money by sharing internet that you are not using.
Although this may sound like a good offer, I recommend that you do not make up your mind until you have read the Peer2Profit review and explanation.
Because you need to know more about the site before you decide to register. And most of all, you need to make sure if this Peer2Profit site is really honest.
Article table of contents:
What is Peer2Profit.com?
Ways to earn money from Peer2Profit
How do they pay you
Expected earnings from Internet participation
Earn from the phone
Registration terms
Can you get support
Is Peer2Profit honest?
Register on the Peer2Profit website
What is Peer2Profit and what does it offer?
Peer2Profit is a site that allows you to earn money by sharing unused internet. We all have internet, but do we use all the package we pay money for?

What they do is sell the internet to companies that do social media marketing or data collection services.
In return, you will be able to earn money and be compensated for the internet you share. It is very similar to Honeygain , which is also a money making site and offers the same type of profit opportunities.
Now the question is, is it worth it? To answer that, we first have to understand how it works by examining the money-making opportunities it provides.
Ways to earn money from Peer2Profit
Let's now learn about ways to earn money from Peer2Profit by sharing the Internet.
1. Download the Peer2Profit software or app
The main way to make money from the site is to download the Peer2Profit program on the computer or download the Peer2Profit application on the phone. Once you register on the site, you can download the software or application from within your account.
After you are logged in, just click on "Download/Install" on the left side and you will see something similar to the image below.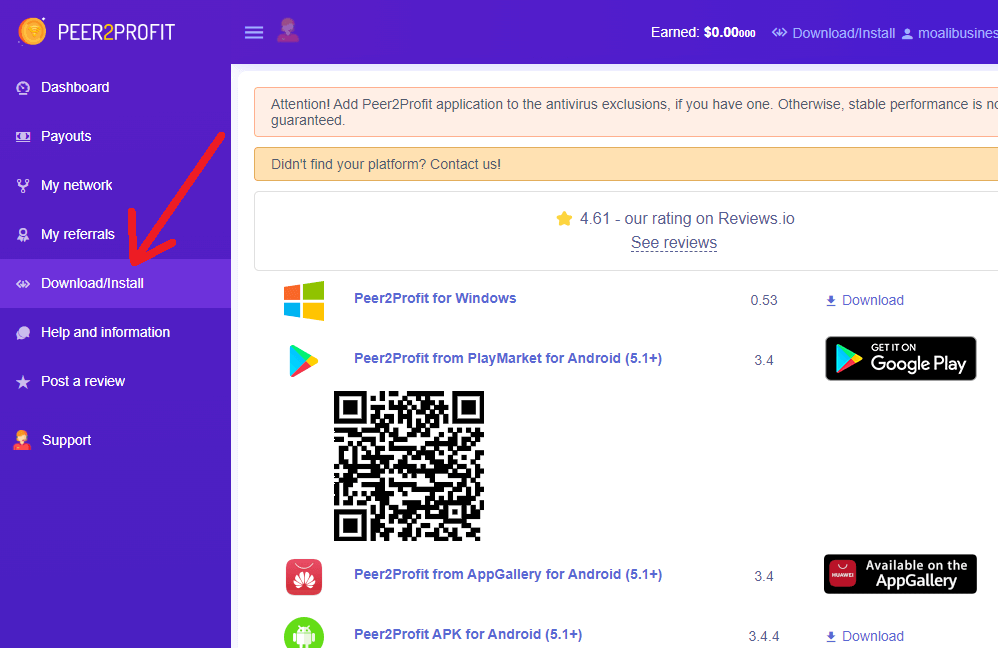 As you can see, the program can be downloaded on Windows computers. The program is not compatible with Mac devices at the time of writing this review.
Once you have installed the software on your PC, just go through the setup process and run it. It will run in the background and do all the work for you.
That's all you really need to do. You can check it from time to time to see if it's working, but if you haven't restarted or shut down your computer, you don't have to worry.
If you are going to install it on the phone, you can download it in APK format or from the Google Play Store.
Once you install it, you just have to go through the setup process again. When you're done, make sure it runs in the background so you can make money. The downside of the app is that it will drain your battery faster.
That's why I prefer using it on a computer rather than a phone. But it's good that they offer the option to earn from the phone as well.
2. Referral profit program
Another way to earn from this site is through their referral program. All you have to do is invite other people to join the platform by sharing your referral link with them.
When they sign up to the site using your referral link, you will then earn 50% of their earnings. This commission will be charged by Peer2Profit, and will not be deducted from your referral earnings.
Suppose you invite someone to the site through your referral link, and that person earns $100, you will earn $50.
Therefore, the referral earning program can be a lucrative opportunity as long as the people you invite are really interested in earning from Peer2Profit.
How do they pay you?
For every gigabyte of data you share using their software or app, you will earn a certain dollar amount.
However, during withdrawals, you can choose to convert your winnings into different currencies. The good news is that Peer2Profit will do it for you.
As you can see in the image below, you can choose to get paid in several different ways. When I first started using the website, bitcoin was the only payment option, but now the website offers many different ways.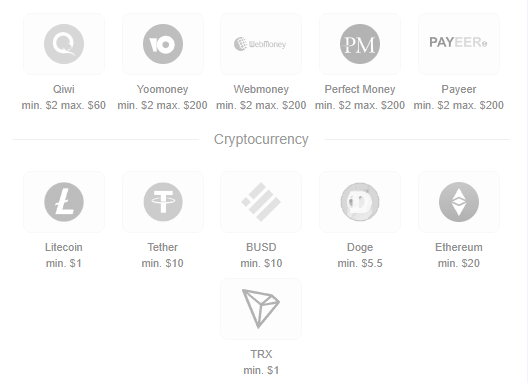 You can choose to get paid in cash via Payeer or Perfect Money and many other available methods, or choose from many different cryptocurrencies. The minimum withdrawal amount will vary depending on the payment method you have chosen.
Expected earnings from Internet participation
After knowing how to profit from the Internet by sharing the Internet, and how to withdraw profits, let's talk about the amount of money you can earn from this site.
You will earn approximately $ 1 for every 1 GB of internet. If you use the app, your earnings will be slightly higher. The average, in my opinion, is good and better than the rest of the competitors.
Of course, the earnings depend on the device you are using, the speed of your internet, and the number of devices you are installing the software on.
But as long as you keep sharing unused internet every day, you shouldn't have any problems hitting the minimum payout more often.
Earn from the phone
As we mentioned earlier, you can download Peer2Profit app on Android. But if you are an iOS or iPhone user, unfortunately Peer2Profit is not for you.
This is the only downside to this site in my opinion.
As for the Peer2Profit website, you will be able to access it from the phone using a browser. Their site is optimized for use on mobile devices. So, you will not have any problems navigating the members dashboard.
This can be useful for withdrawing or checking your earnings, or even when using their referral earning program because you can easily do this even when you are not in front of your computer.
Who can join Peer2Profit?
Another good thing about Peer2Profit is that it is available globally. Therefore, you can register no matter where you live. As long as you have a high speed internet connection, you will be eligible to join and register.
To register, you just have to enter your email and password, or you can use your Google account to log in.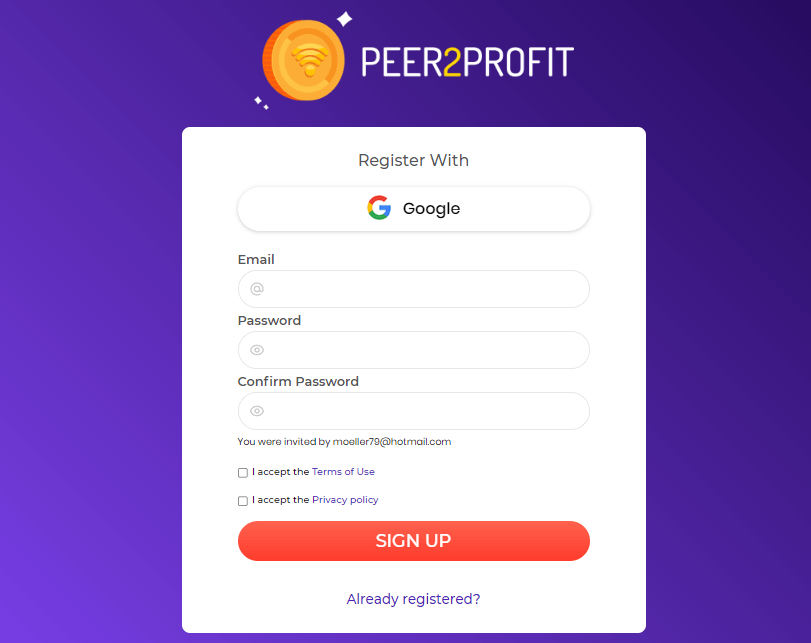 So, registration is fairly easy. Once done, simply log into the site and download their software or app.
Can you get support?
Honestly their FAQ page needs a little work.
Some questions have answers but most do not. Therefore, if you have any questions, you probably won't find the answer on their FAQ page.
But their site does a good job of explaining what the platform has to offer. And if you still need help, you can just click on the chat button in the bottom right corner of the site.
You can choose which chat platform you want to use to communicate with their support team.
Additionally, you can also email them at support@peer2profit.com for any inquiries. In general, they have a good support system where you can contact their support team in different ways.
The problem is only in the questions and answers page, I did not find answers to some questions.
Is Peer2Profit honest?
Yes, Peer2Profit is an honest site for profit from the Internet by sharing your Internet. You will be paid for sharing unused internet.
It certainly has some positives, but it also has some negatives that you need to keep in mind.
Let me end my Peer2Profit review by summarizing its pros and cons to give you a better overview of what the site has to offer.
Positives
It is a passive income site. Meaning, you will not do anything but download and install a program or application
The profit rate of online sharing is higher than most competitors
It offers many different payment methods
Negatives
Not compatible with Mac computers and iOS devices
In my opinion, if you don't mind making money online by sharing your bandwidth, and you have a good internet speed, then I think Peer2Profit can be a suitable option.
You will be able to profit from the Internet easily. You just have to download Peer2Profit or download the app and watch your earnings grow.
But if you are a Mac or iOS user, this is not for you. But who knows, maybe in the near future, it will be available for Mac and iOS devices.
Register on the Peer2Profit website
If you are interested in registering with Peer2Profit, simply click on the join button below and it will take you to the registration page.
Registration will only take a minute, and once you are done you can immediately log into the site and download their program or app so you can start making money quickly.