is currently only available in the United Kingdom.
What is Oh My Dosh?
Oh My Dosh is a GPT (get paid to) website that rewards users from the UK for completing offers and taking online surveys.
It was created in 2017 by Submission Technology, Ltd, which also operates 20Cogs, Paid Surveys, UK My Mystery Shopper, and Product Testing.
When you join Oh My Dosh and complete their offers, you agree to provide your personal information such as name, email, and telephone number for marketing purposes.
As a result, you also agree to receive marketing emails and phone calls, depending on the offer.
Pros and Cons
Pros
It's free to join.
There are lots of offers available.
Earn £1 as a sign-up bonus.
Generous affiliate program.
Cons
Low-income potential.
Some offers require you to pay the membership after the free trial, which means you are just getting a discount on your first month.
Some offers require you to share your contact details, including your phone number, with third parties.
How Does Oh My Dosh Work?
The registration is 100% free. All you must do is click the sign-up button and fill up this quick form: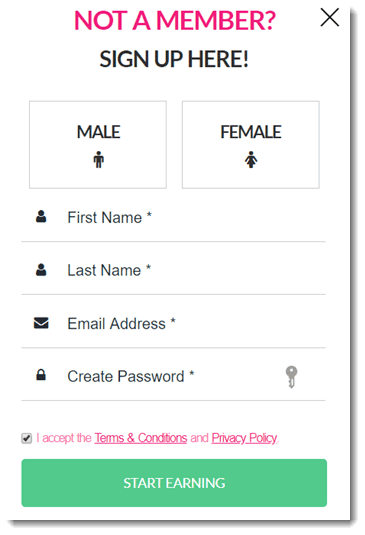 You will earn 50p straightaway, and more 50p after you confirm your email. So, that means £1 without any effort!
I'm sure you didn't come to this site just to make £1, right? So, what's in it for you?
Offers
Well, I would say over 90% of the opportunities available on Oh My Dosh are offers!
There are lots of offers divided into different categories such as Hot Offers, No Spend, Entertainment, Trials, and more.
Here are some examples:
Get a 14-day free trial of the NOW TV: Earn £4.
Deposit Just £10 Today With William Hill: Earn £10
30-Day Free Trial With Amazon Prime: Earn £9
Join national Consumer Review, enter the competition to win a TV, and complete the full survey: Earn £0.65.
Each offer has its own terms and conditions, so you need to read the instructions carefully and make sure you complete all the steps required to receive your reward.
I am not a big fan of offers because most of the time, the reward is not that great.
For example, it took me 1 minute to complete the Amazon Prime Offer, which earned me £9. Not too bad, right?!
I just had to log in to Amazon, accept the 30-day free trial, and send the Amazon confirmation email.
The thing is, the £9 will not stay in my pocket as I will have to take the free trial in full, which means I will have to pay £7.99 for the first month.

Therefore, I will earn £1, which is okay for doing nothing. 🙂
Some offers will make you lose money, as is the case with the Now TV offer.
Oh My Dosh will give you £4 if you accept their 14-Day Free Trial.
Here, the terms and conditions require you to renew your membership after that period.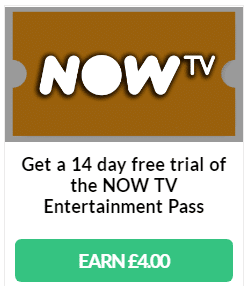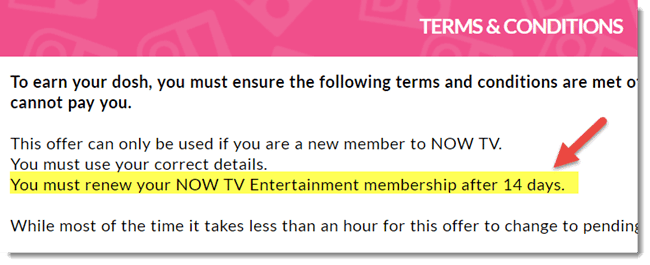 The problem is that the monthly membership costs £7.99, which means £2.99 will have to come out of your pocket.

There are some high paying opportunities. For example, this offer which pays £20 if you make a £10 deposit and play through all the money.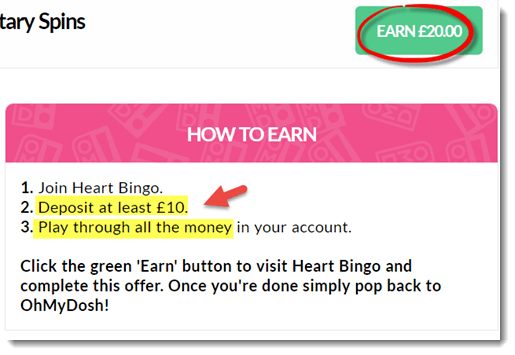 Another prevalent type of offer is the prize draw competitions. They will ask you to fill out a form with your name, email, and phone number.
So, you will earn a reward by providing your contact details. Not too bad, right?
The downside is that you will receive emails and phone calls regularly, which could become stressful depending on how many of these offers you complete.
Online Surveys
Oh My Dosh also has a section where you can take online surveys with marketing research companies such as GlobalTestMarket, SpeakUp Surveys, Samplicio.us, and more.
There are many survey opportunities!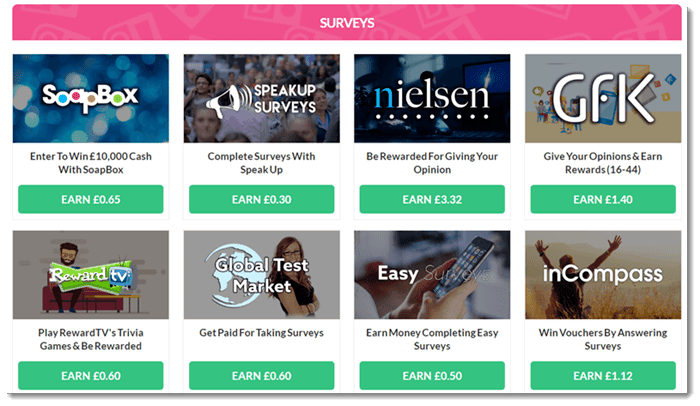 Taking surveys is an easy way to make money online, but as you can see, most of them pay less than £1.
Referral Program
Another way to make money with Oh My Dosh is to share your affiliate link with other people.
Will earn £5 every time someone joins through your link and reaches £10. I have to confess this is a very generous affiliate program.
Most people share their affiliate links on social media, blogs, and YouTube channels. So the more people click on your links, the more money you can make!
Payments
You can only request a payment when you have at least £10 in your balance account.
Before you can cash out, you will need to set up a payment method, which can be either via BACs or Paypal.
Click on "Menu" > Balance > Set up payment method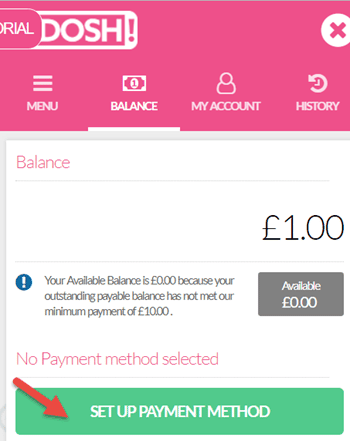 Complaints
Because Oh My Dosh is a relatively new site, there are few user feedback on the Internet. However, on Trustpilot.com, the overall rating is 7.7 out of 10, which is quite good!
Conclusion – Is Oh My Dosh a Scam?
No, it isn't. However, from my experience and research, this website is 100% legitimate.
As I said, I am not a big fan of offers and online surveys because the pay rate is usually very low.
However, I think Oh My Dosh is a decent opportunity for people who want to earn pocket money online. Another good GPT option is Prizerebel.com.
=====================