Money RAWR App
Name: Money RAWR
Price: Free
Type: Get paid to play games.
Developer: AppLike GmbH
LEGITIMATE
Overall Rating: 2.4/5
What is Money RAWR?
Money RAWR is an android application that rewards users for playing games as well as inviting your friends to join.
This app is operated by AppLike GmgH, a German-based company
Whenever you install and play a game, you will earn Coins that you can exchange for PayPal and gift cards from popular stores.
Is Money RAWR Legit?
I consider Money RAWR a legit app, but there is something very important that you should know.
Most people don't read the terms and Conditions  (ToS), and when they don't receive the payment, they think the app is a scam.
The problem with Money RAWR is that the company doesn't guarantee any payments!
If you read section 5.7 of the Terms and Conditions, it says:
"The provider does not guarantee the User any winnings. In particular, the User has no right to the payout of a certain award"
In my opinion, everyone should have the right to get paid. However, if the company doesn't want to give any guarantees, they should tell people straight away instead of just leaving the information in the ToS.
Pros and Cons
Pros
It's an easy and fun way to make money.
Earn 5555 Coins as a signup bonus.
Easy to use.
The minimum payout requirement is low.
There is a generous referral program.
Cons
There are not many games available depending on your country.
Very low-income potential.
The more you play a particular game, the fewer credits you will get from it.
There are no guarantees of earnings.
How Does it Work?
You can download Money RAWR for free on the Google Play Store.
After the installation, you have to sign up with either your Facebook or Google account.
You must also grant Money RAWR access to your usage data so they can detect your playtime.
They will give you 5555 Coins as a signup bonus, which is approximately £0.40 in the United Kingdom.
If you want to know much money 1 Coin is worth in your country, visit the payout tab and check the coins vs reward rate. Then, divide the cash value by the number of coins required.
The featured tab has a list of games with the number of coins you will earn per minute.
There are not many games available, but new ones are added every day based on your preferences.
All you have to do is click on  "Play & Collect", install the app and start playing.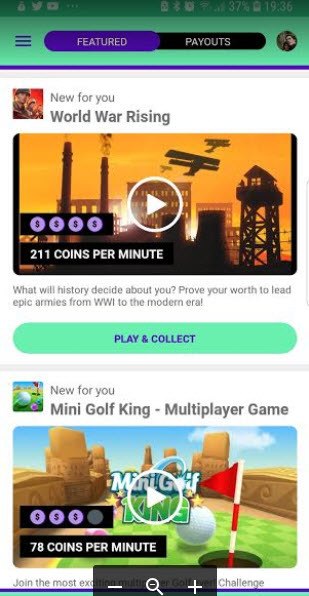 If you live in the UK, you will start earning around 60-250 coins per minute, which is £0.004 – £0.018 per minute.
Note that the longer you play a specific game, the fewer coins you will earn per minute.
At some point, you will have to play for hours to earn the same amount of coins, meaning the maximum reward for that particular game was reached.
The only solution is to install and play another game.
Invite Your Friends
You can earn more coins when you invite your friends to join Money RAWR.
Whenever a friend joins through your link, you will receive 250 coins plus 25% of all their earnings.
The cool thing about this referral program is that your friend will also earn 25% of what you earn for life. So, both of you win!
Payout
Exchange your coins for PayPal cash or your favorite gift card. In the UK, there are many payout options such as Amazon, Steam, iTunes, PizzaExpress, Starbucks and TK Maxx and |Zalando.
The minimum payout is only £0.50 (6399 coins), which you can reach quickly thanks to the initial sign up bonus of 5555 coins.
What Are People Saying?
I didn't find too many complaints about Money RAWR on the internet. Most people like the app and claim to have received the payment without any issues.
=======================