What Is Merge Money? 
Merge Money is an idle game where you must merge money trees, collect diamonds, and most importantly, grow your cash balance.
As you unlock new pots of higher levels, you will earn more cash per second.
You can use virtual dollars to exchange for other in-game currency and achieve faster results.
Does Merge Money Pay? Is It A Scam?
Unlike many other games, Merge Money doesn't claim users can win cash rewards through PayPal or Gift cards. So, it's 100% legit!
Unfortunately, some people believe the virtual money has currency value, and that it should be transferred to their bank accounts. That's just a pipe dream!
In my opinion, the company should display a clear message to users to warn them that this game is just for entertainment.
Instead, it just assumes players know this is a simulation.
Somehow, they benefit from this misunderstanding because lots of people keep asking how to cash out.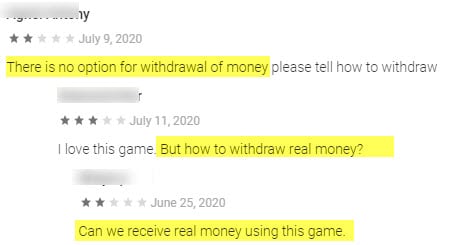 How Does Merge Money Work?
Installation
Merge Money is available for iOS and Android devices. Once you install the app on our Phone or Tablet, you can play immediately.
How to Play Merge Money?
It's quite similar to other merging games like Puppy Town and Cutie Garden. Except, it has a lot more features and doesn't have any option to cash out.
You must drag and combine pots of the same level. By unlocking a new level pot, your tree will start generating more virtual dollars per second.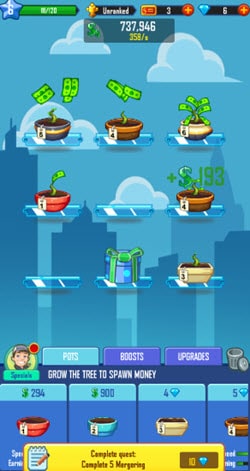 Besides, you will collect diamonds, which are used to buy higher level pots.
When you see an empty shelf, buy more pots to keep on merging. At level 1, they cost virtual dollars, but at higher levels, you must pay with diamonds.
In the "Boosts" tap, you can get special boxes, win bonuses and speed up your tree growth. To earn such boosters, you can either watch a video or spend 15 diamonds.
In the "Upgrade" section, you can unlock extra levels and increase your productivity by up to 50%. Upgrading requires that you have enough checks, which can be collected using the money exchanger.
There are also specials such as Quests, Lucky Spin, Time collect, and more! These features will help you achieve faster progress.
The goal is to unlock the final level pot, which may take forever!
That's basically the most important aspects of Merge Money.
There are Lot of Ads!
Merge Money will show you an insane number of commercials, which consume a lot of data.
As if the videos where not enough, they also display banners with different sizes!
Some of them are very intrusive and forces you to click them to keep playing. Here is one example: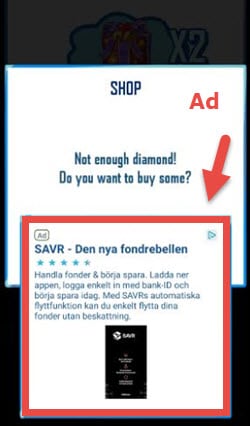 As you can see, there is no option to close the banner, which doesn't feel right!
The company replied so some negative reviews by saying they have adjusted the ads. Nevertheless, there are lots of them compared to other games!
Pros And Cons
Pros
Connect and play with friends.
It helps to pass the time.
Cons
The game is full of annoying banners and commercials.
Many players think it's boring.
Very intrusive advertising.
There is no tutorial, so it can be quite overwhelming for some people.
Most videos promote "get-rich-quick" type of games that don't pay a dime. So, be aware!
========================