What is Maximiles?
Maximiles is a rewards platform where you can earn points mainly for taking surveys, completing offers, and shopping online.
You can then spend your points on a wide range of products including electronics, toys, health and beauty, and more.
The platform is operated by a marketing research company called Bilendi Limited and is available in France, Italy, Spain, and The United Kingdom.
Pros and Cons
Pros
The shopping section has over 600 retailers.
There is an app available.
Earn 5 points if you are screened out from a survey.
Earn 125 points as a signup bonus.
Cons
You can't exchange points for cash rewards or gift cards.
There are not many surveys available.
You can only refer friends by sending an email through the platform. The affiliate link is not available.
How Does Maximiles Work? 
Registration
The sign up is free and doesn't take too much of your time. All you have to do is provide basic information like your name, email, and home address.
Then, you should click the link sent to your email to confirm your account.
Maximiles is also available as a mobile app that you can use to collect points on the go.
You can download the app from the Google Play or App Store for your Android or iOS device.
You will earn 100 points as a sign-up bonus plus 25 points if you subscribe for Maximail. Just keep in mind that if you subscribe, Maximiles will send you advertising emails on behalf of their partners.
Points Vs Rewards
Different from many other GPT sites, Maximiles doesn't pay via PayPal or gift cards. Instead, you are limited to exchanging your points for products that the company provides.
That is a big downside as you are "forced" to spend all your points on their products.
Another downside of this reward system is that it makes it difficult to translate points to the equivalent in cash.
In other words, you don't really know how much 1 point is worth!
You'd have to search online for the price of a similar product and then calculate the value of 1 point for that product.
I believe most people won't do that, so they lose track of how much their time is worth.
Surveys
When you join Maximiles, you will become part of their research panel. That means you will be invited via email to complete surveys from time to time.
They say you will earn up to 500 points per survey, but I believe most surveys are between 150-250 points.
The number of surveys you will get depends on your country and profile.
I didn't receive any invitation on my first day, which is a sign there are few opportunities compared to other panels.
Offers
You can earn points for different offers such as:
Free registrations – Register for sites and services without providing your credit card details. One offer of this type available in the UK is from inCompass.
Trials Offers – subscribe to services for a free trial by providing your credit card details.
You should read the instructions carefully before accepting any offer to make sure you understand all the requirements.
I also advise you to read the terms and conditions and keep a record of all the offers you complete.
It's easy to lose track and make mistakes.
Shopping
Maximiles has partnered with over 600 retailers so you can earn points when you make purchases online.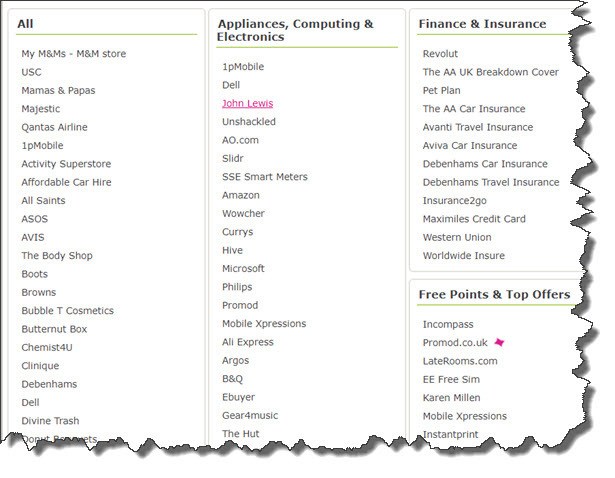 It's like a cashback program, but instead of cash, you are earning points.
Make sure you go to the retailer's website via the Maximiles website and that you are logged into your Maximiles account. Otherwise, they won't be able to track your purchase, and you won't get credited.
The amount of points you will earn depends on the store and how much you spend there. Depending on the store, points may vary by product category as well.
Here are some examples:
M&M store – Earn 10 points per £1 spent
Argos – Collect up to 3 points per £1 spent
Holland and Barrett – Collect 10 points per £1 spent
Boots – Collect up to 8 points per £1 spent
Referral Program
Invite friends to join Maximiles and earn 1500 points when they collect 1500 points.
The downside is that they don't provide an affiliate link to refer people via social media or blogging. The only way to get referrals is by submitting your friends' name and email.
=========================