What Is Lucky Money App?
Lucky Money is a sweepstakes app where you have different ways to win cash prizes, including:
Scratching cards.
Entering raffles.
Cracking eggs.
The app is entirely funded by advertisers, which means it's 100% free to play. Therefore, you won't put your hard-earned money at risk for a chance to win.
However, you must watch a large number of adverts in the process. So, in essence, you are paying with another valuable currency called time.
Luck Money app is operated by a Hong Kong-based company, Lucky Money Studio Limited, and it's available worldwide.
Is Lucky Money App A Scam?
I believe Lucky Money is operating legally, but that doesn't mean you will be able to cash out.
In the beginning, Lucky Money will let you win a few dollars quickly, but things may slow down considerably after a while. 
If you check the reviews on Google Play, you will see that many people get stuck before reaching the minimum payout.
It's heartbreaking to see these reviews:


Another player said the following:
"…It's been two weeks since I've gotten a penny now! I play every single day for 1-3 hours. It's obvious the game is rigged to keep you from getting to the $10 cash-out minimum."
It can be very frustrating to watch all those videos just to discover that the app is rigged against you.
How Does Lucky Money Work?
Installation and Registration
Lucky Money is only available for Android devices.
You can download and install it for free on the Google play store.
After the installation, you can start playing scratch cards without signing up.
However, you are encouraged to register with Facebook to ensure the safety of your account.
Cash And Tokens
Remember that you will have two distinct balances: one for virtual currency and one for tokens.
You can withdraw your cash balance via PayPal when you reach $10.
As for tokens, you can exchange 20,000,000 tokens for a $1 Amazon Gift card.
Playing Scratch Cards
Every day, Lucky Money offers you 40 scratch cards for a chance to win cash and token prizes.
According to the Terms of Service, computers will randomly select winners before the start of the daily promotion period.
Keep in mind that not every scratch card will have a winner.
Besides, the company doesn't tell us the odds of winning different prizes by scratching cards.
I have seen different prizes ranging from $1 to $1000.
You have to scratch the card and match 3 symbols to earn the prize.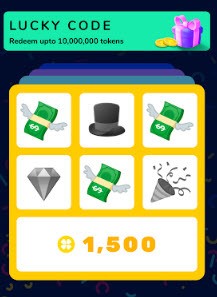 Even if you don't match 3 symbols, you can still earn a few cents or tokens.
Most of the time, you will get 500 – 1000 tokens.
As I mentioned, you need 20 million tokens to exchange for $1!
To give you an idea, I scratched all the cards and collected just 47,000 tokens.
At this rate, I can expect to redeem my $1 gift card after two and a half years!
You can only play one card at a time.
According to the Terms of Service, you must watch a short video ad after every 3 – 4 scratch cards.
However, that's not always the case, and sometimes you may have to watch a video to get the scratcher. Otherwise, it will be discarded.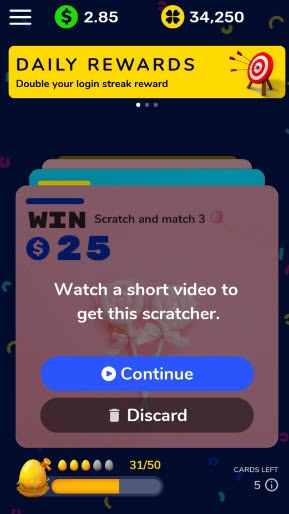 Lucky Egg 
Scratch cards also give you lucky mallets that you can use to smash golden eggs for rewards.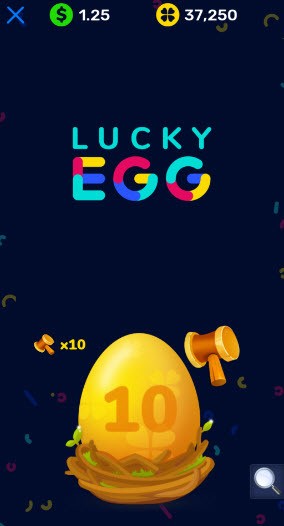 Each scratch card will give you 1 or 2 mallets.
I broke an egg when I collected ten mallets and won $0.10, 10,000 tokens, and 7 Ruffle tickets.
Raffle Tickets
You can use your tokens to get entries for the hourly ($1), daily ($50), and monthly ($1,000) raffles.
I think you are much better off exchanging tokens for Raffle tickets instead of redeeming them for Amazon Gift cards.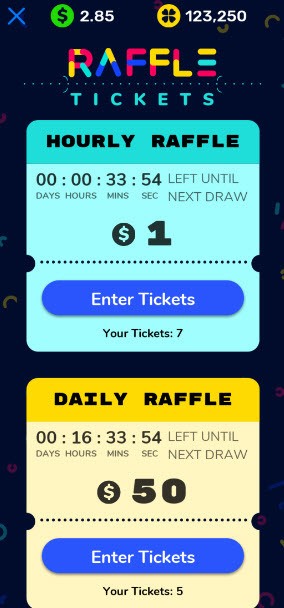 Tickets for the hourly, daily, and monthly raffles cost 25,000, 20,000, and 10,000, respectively.
Lucky Money will select one winner in a random drawing from all eligible tickets.
Therefore, the odds of winning depend on the number of tickets collected in each raffle.
You can enter a maximum of 1000 tickets entry per raffle.
Lucky Numbers
Players can pick five numbers plus one lucky number from 60 regular numbers daily.
If you match the six numbers, you will win the jackpot of $100,000. It's also possible to win by matching numbers 1, 2, 3, 4, and 5.
The prizes and the odds of winning are as follows:

As you can see, the chances of winning $5, $50, and 100,000 are extremely low!
No Slot Machines or Spinning Wheels! 
Lucky Money used to have the lucky spin and the slot machine, but they have removed these games for some reason.
Daily Rewards, Milestones, and Leaderboard. 
You can get extra tokens every day by playing Lucky Money for up to 7 consecutive days or by reaching milestones.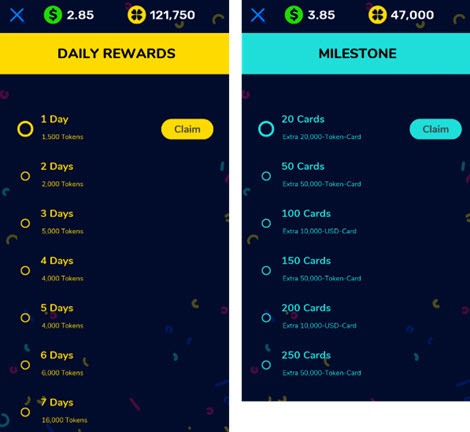 Also, you will get $10 if you win the contest by collecting the highest number of tokens in a day.
Pros And Cons
Pros
Cash-out to PayPal.
You can exchange tokens via Amazon gift cards.
It's very addictive!
There are different ways to win cash prizes.
Cons
Your chances of winning big cash prizes are close to zero.
There are lots of ads!
The more you play, the fewer tokens you will earn per scratchcard.
Lucky Money can delete your account for any or no reason.
The value of a token is abysmal.
=======================