What is Keep Rewarding and what does the site offer?
Keeprewarding.com was started in 2012 and is an online rewards portal – also often called a GPT site (get-paid-to).
According to the site itself, the people starting it were tired of seeing honest people being treated badly and taken advantage of by GPT Sites. Not giving members fair reward amounts for the time and effort they were putting in.
After reading this, I immediately had high expectations to Keep Rewarding, but I have also joined enough survey and GPT sites to know that you should not only trust what the sites say about themselves.
So I decided to put the site to the test and joined to see exactly what it offers and if it really lives up to its mission statement.
After joining, I saw that they have quite a lot of ways to earn but it was quite confusing.
Luckily it has been updated quite a bit since I first joined it and it is always a good sign when a platform works on improving the experience. That does, of course, not necessarily mean it will be the best option for you.
So below I will go over the earning opportunities you can find there so you can see if it is interesting for you.
Option 1 – Paid surveys
As with most other GPT sites, Keep Rewarding offers you to take paid surveys as a way to earn.
The surveys are offered through third-party providers on what Keep Rewarding calls a survey wall.
This means you will see a list of different survey providers. When you then click your chosen option, you will see a wall/list of the surveys that provider offers.

Because Keep Rewarding works with quite a few different providers, you can find a decent amount of surveys here.
Just be aware that when you take surveys this way, it can often take patience to find the surveys you qualify for.
The rewards for the surveys you take on Keep Rewarding are average compared to other sites. I have seen sites that give lower rewards for the same surveys, but I have also seen sites that give higher rewards.
Be aware that the option Keep Rewarding offers called "live surveys" is only open to people living in the US, UK, Canada, and Australia.
If you live in one of these countries, you can register for these surveys.
If you try to register for these surveys but do not live in one of these countries, it will be seen as fraud and your account will permanently be blocked.
One interesting thing I noticed in the survey section was that they encourage you to contact them if you do not have access to a lot of surveys in your country or if you have seen higher rewards on other sites for the same surveys.

Just be aware that this does not mean they can necessarily do anything about it. But I still think it is a nice touch that they are open for feedback like this.
Overall, you can find decent survey options here but it really does depend on the country you live in.
Even though the website has been updated a lot and is more user-friendly now compared to when I first joined it, it is, however, still not the easiest survey site to find your way around.
So if you decide to join, you just need to be willing to spend a bit of time learning how to use it the best possible way.
Option 2 – Micro-tasks through Figure Eight
Keep Rewarding has a section that offers you to do small online tasks through Figure Eight.
These are micro-jobs that do not take long. However, in the beginning, the rewards will also be very low.

With some patience, these jobs can be worth taking. As you do more, you will earn trust and you will start getting higher paying tasks.
Keep Rewarding also has a contest where the top 5 earners on Figure Eight tasks every week will get a small bonus (from 25-300 points).
In my opinion, if you like taking Figure Eight tasks, a platform like ySense is a better place to do this.
It gives around the same rewards for the tasks themselves, but it has bigger prizes for its weekly contest as you can win up to $50 here, and it also gives a bonus of $5 every time you have earned $50 by doing tasks.
So the tasks can be worth doing, but you should definitely consider doing them on ClixSense instead.
Option 3 – Paid offers
You can get access to quite a lot of offer walls on Keep Rewarding. Here you can find all kinds of offers like signing up for free trials, downloading apps, you can find more surveys, play games, and more.

As you can see in the image above, there are A LOT of these walls on Keep Rewarding.
In fact, there are so many that it can be difficult to get a good overview. It can be a good way to boost your earnings.
But you just need to take the time to go through the offers and find the ones worth it. So make sure to read the conditions for the offers you consider carefully – there are always some conditions you need to live up to. And some of them are definitely not worth it, in my opinion.
You can find some good offers here, but it is not as easy to get an overview as on many other sites. Personally, I, therefore, prefer using the top GPT sites for paid offers instead.
Option 4 – Click ads
You can find a PTC (paid-to-click) section on Keep Rewarding, where you can get paid to click some ads and visit the website it sends you to.

If you have visited here on PaidFromSurveys.com before, you will know that I, in general, am not too crazy about this option (you can read my full PTC guide here).
It is very easy to do and does not take long, but it gives extremely low rewards. As you can see in the image above, you will get around 0.001 points per ad.
This means you would have to click around 1,000 ads to earn just $1. Not really worth it if you ask me.
Option 5 – Get paid to watch videos
Keep Rewarding also has a section with videos you can watch and earn this way. And you can find plenty of videos to watch no matter what topic you would like to watch videos about.

You will get paid every 3-4 videos you watch depending on the option you choose. Or more precisely, you will get paid for every 3-4 ads you watch as there will be ads in between the videos and these are the reason you can get paid to watch the videos.
You do not really have to watch the screen to earn this way, BUT the rewards are really low for this, so it will not make you a lot of money.
Option 6 – Free Contests
Keep Rewarding has several free contests it offers you to participate in. You will automatically participate in most of them just by being an active member.
They call it contests but most of them are really just bonuses if you have a certain activity. But there are also contests, like for example the weekly Figure Eight contest I mentioned earlier.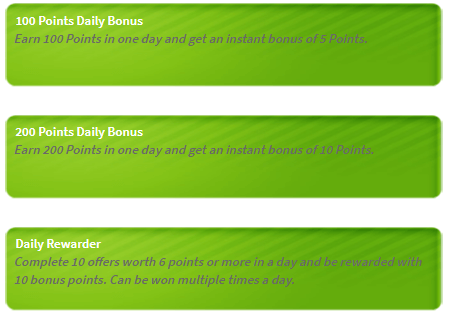 As you can see in the image above, most of the "contests" are a way to keep you being more active by giving a small bonus if you have a certain activity in a day.
You will, for example, get a 5 points bonus, if you earn 100 points in a day.
It is not huge rewards you will get like this, but if you are actively using the platform, any little bonus is, of course, nice.
But it is not really a way to make big money.
Option 7 – Keep Rewarding promo codes
It is possible to get promo codes from Keep Rewarding and get some free points like this.
You can find them on their social media channels at times, in emails, or sometimes you have to figure them out yourself according to the site itself – not really sure what that means though:-)
First of all, these promo codes will give you very few points, so it is not something worth chasing around for, in my opinion.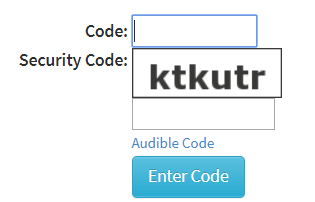 It is located in the main menu under the "redeem" section. Here there is a submenu called "promo codes".
If you find promo codes, you now know where to redeem them but do not expect to make a lot from this.
How do you get paid?
Even though Keep Rewarding is a bit confusing to use, it is possible to earn there. But you, of course, also need to know how you can then get your money out.
When you earn on Keep Rewarding, you earn points. These points can then be redeemed for cash through PayPal or gift cards to, for example, Amazon.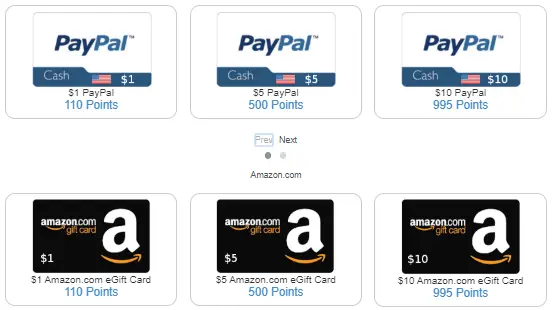 1 point is approximately worth 1 cent. But that depends when you decide to cash out. You can get a payout already when you have earned $1.
But that will cost you 110 points. But if you wait and withdraw $5, it will only cost you 500 points. And if you wait until you have $10, it will cost you 995 points.
So as you can see, you can get your earnings out very quickly as it has a low payout threshold. But it makes sense to consider waiting until you have earned more as you will then get better value for your points.
However, if you like getting paid in cash, there are so many great PayPal survey and GPT sites that offer better opportunities, in my opinion, so I would clearly recommend you to check out some of these sites instead.
How much money can you make?
There are quite a lot of earning options on Keep Rewarding and it does give decent rewards and also in many cases almost the same rewards as some of the big sites.
It can, however, be a bit confusing to use so you need to take a bit of time to learn how to use it the best possible way if you decide to join.
But if you are a bit patient, it can definitely make you some extra cash on the side. But in my experience, it will not be quite as effective as the top GPT sites.
Can you use it on mobile?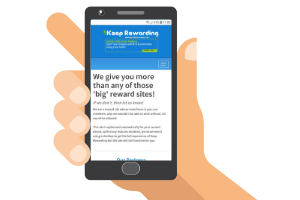 You can use Keep Rewarding on mobile as the website is optimized for mobile. This is one of the things they have improved since I first tested the site and this is definitely a great improvement.
In my opinion, it is important to be able to use a site on the go as it makes it so much more convenient to earn.
There is no Keep Rewarding app but you can just log in to the website through your browser on mobile or tablet and then use it there.
Some of the sections are not easy to find your way around on mobile, however.
But if you like earning on the go, it is possible on Keep Rewarding.
Who can join Keep Rewarding?
One thing that is great about Keep Rewarding is that everyone can join as it is open to all countries. You just have to be at least 13 years old.
The number of opportunities will, however, vary from country to country.
So you can join no matter where you are from, but I think you should, first of all, check out the best sites in your country, and then you can consider Keep Rewarding after if you still need more sites to join.
But in most countries, there will be sites that give overall better opportunities, in my opinion.
Can you get support?
How good support you can get tells a lot about a reward site.
On Keep Rewarding you can get help in a couple of ways. You can submit a support ticket on the website, or you can write to them on their Facebook page.
From what I can see on the Facebook page, the support is quite responsive and quickly gets back to people. Also, one thing I appreciate is that they seem open to feedback.
After I first published this review, they posted a comment below it (you can see it in the comment section) and thanked me for the feedback. And once they did some updates, I can see they have taken some of my initial concerns into consideration.
This definitely shows a lot about a site and this means that you can also expect they will take your feedback as a member.
This is great and definitely something some other sites could learn from.
Final verdict
Keep Rewarding is a legit GPT and it has potential but it also has some limitations
So let's finish this review by summing up the pros and cons of the site to help you get a better overview before deciding for yourself.

Pros:
Free to join
Open to all countries
Low payout threshold

Cons:
Usability could be better
Mobile optimization could be better
It is possible to earn a bit of extra cash on KeepRewarding.com and it has good payout options.
But in my opinion, the platform is not one of the most user-friendly and in some countries, there will not be a lot of options for you.
========================