InboxPounds is only accepting new account from the United Kingdom at this time.
What is InboxPounds?
InboxPounds is the UK version of InboxDollars, a website that rewards members for completing various simple activities.
The American version was founded by Daren Cotter in 2000 and is used as a powerful marketing tool for advertisers.
It has grown considerably since then, achieving the remarkable mark of $35 million paid to its members. These are the activities offered by the English version:
Filling up surveys
Completing offers
Playing games
Referring it to other people
Pros and Cons of InboxPounds
Pros 
Free to Join
Easy layout
Offers a referral program
£1 Sign up bonus
Cons
Low-income potential
It pays only by cheque
You must have £20 to cash out – It can take ages!
It is hard to get accepted for the surveys.
An Initial Motivation – Earn £1.00 as a Sign Up Bonus
You get an incentive of £1.00 just for signing up. You only have to fill-up the form with your name, address, and email address.
The company will send a confirmation email to your inbox; you just have to open and click the link. That's easier than bending down for a coin on the floor!
Online Surveys – Do You Think Your Hour is Worth Less Than £1?
Filling up surveys is the most popular way to earn money online. I always expect to make very little from online surveys, but after looking at the rewards inside Inbox Pounds, I was very disappointed.
Take a look at these surveys from a company called Peanut Labs:


If you decide to go for online surveys, I advise you to always look for the time it will take you to complete and calculate your hourly pay rate.
From the above, you can see that your time is hugely undervalued for Inbox Pounds.
For example, spending one hour with the first survey would make just  £0.76.
Furthermore, you will have to fill up some pre-qualification questions before you start the survey. As they are searching for a particular group of people, depending on your answers, you may waste your time and end up with £0.
Earn By Completing Offers
Offers usually have higher income potential. There are free and paid offers to choose from, and my advice here is to be very cautious.
Free Offers
Most of them are online survey companies you must sign up to. Other options include subscribing to try out products and services such as magazines, games, and expert advice, among others.
Some offers are subscriptions with a free trial included. Be cautious because they will charge you for the service if you don't cancel the subscription within the free trial period.
They are paying you because it is a way to make their product/company known and also a chance to get people to buy them.
It is a clever marketing tool. Instead of paying for a simple ad, companies pay a commission to Inbox Pounds, which rewards their members for trying out the products.
Offers that require a payment
There are many types of offers in this category.
Usually, you will get ZERO from those offers because InboxPounds will pay you less than your deposit.
For more offers and survey opportunities, Prizerebel and InstaGC are good options.
Simple Tasks With CrowdFlower 
This option redirects you to another website called CrowdFlower, a company dedicated to data mining and crowdsourcing.
Examples include answering simple questions, evaluating sentences, providing feedback, help with categorizing YouTube channels, among many other tasks.
Unfortunately, this platform will pay you even less than marketing research companies.
It all starts with a qualification exam, and it is so time-consuming!
When you do the math, sometimes you can get less than £1 per hour worked.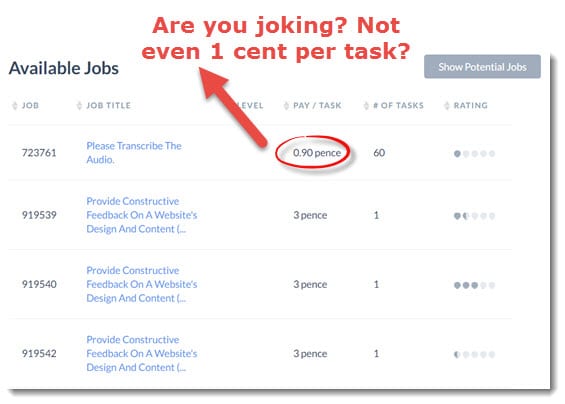 The Best Way to Earn Money With InboxPounds?
When you refer people to InboxPounds, you get 10% of their earnings. You can refer using email, social media, or your affiliate link on your website/blog.
Although this method won't make you rich, it can be your best way to earn money with InboxPounds. I will tell you why.
People will take ages to save with Inbox Pounds, but if they stick with it, they can earn £7-10 per month.
Let's suppose you have a website that attracts many visitors. In one year, you could get 50 active users earning at least £7 per month.
Well, 10% of  350 equals £35 in commissions that are FREE money every month.
Forget about boring surveys! By doing that, you are using internet marketing principles to earn money online, which is a wise thing to do!
==========================