What is Golf Cash and what does it offer?
Golf Cash is a Get-Paid-To (GPT) app that will reward you for playing their game. It is indeed a legit app because you will really get paid to play this game.
However, this doesn't mean it is worth your time. There are other factors you need to consider before you can tell if this app is worth it or not.
Now, the first step in reaching a conclusion is to understand how the app works. And the best way to do that is to examine the earning opportunity it offers.
The earning opportunity – Playing the game
Earning from this app is really simple. You just have to play. And when I was testing the app, I do admit that the golf game is quite fun to play.
The idea is that you get to play miniature golf and what you will mainly be dealing with is the number of strokes. At the start of the game, you will only be given a finite number of strokes. So, your goal is to gain as many levels as you can with the strokes given.
That's why accuracy is very important in this game. You have to make sure you don't waste any stroke.
Fortunately, if you run out of strokes, you can watch video ads to get more (refer to the photo below). Or, you can also purchase additional strokes using real money.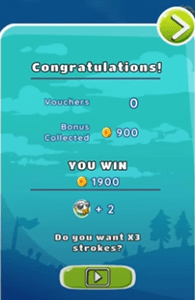 Just don't take it for granted because you will eventually run out of video ads to watch, and you won't receive any more additional strokes. When that happens, just wait for the day to reset to get more strokes.
When you reach a certain level, you will receive a cash prize, and it will be credited to your Golf Cash account balance. In the next section, I will discuss how you can withdraw your earnings.
How do you get paid?
As mentioned above, you will receive cash prizes when hitting specific levels in the game. But how can you withdraw your earnings?
Well, the good news is that Golf Cash will let you withdraw your earnings via PayPal once you've earned at least $0.25, which is a very low threshold, in my opinion.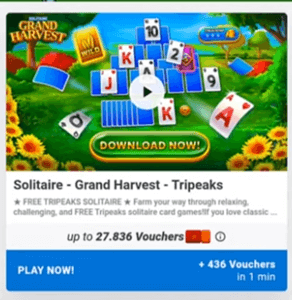 The bad news is that you'll have to do some more playing to withdraw your earnings. You see, to withdraw your earnings from the app, you will need vouchers.
And as you can see in the photo above, you will need to play the mobile games they feature to earn enough vouchers to withdraw your earnings.
These mobile games also have to be installed on your mobile device, so don't be alarmed if it asks you to install other apps. It's definitely an unexpected step, and I'm personally not a fan of something like this where you are required to spend more time just to withdraw your earnings.
Overall, I would say the payment method of Golf Cash is relatively straightforward once you accept the fact that to withdraw your earnings, you will need to play more games. But I do like that they offer PayPal as a payment method though because it is one of the most convenient payment methods available today.
How much money can you make?
The thing with Golf Cash is that you won't be able to earn a lot of money from this app. It's actually not surprising because other apps that offer the same kind of earning opportunity also don't have good earning potential.
So, it comes as no surprise that you will also not earn a decent amount from this app without investing a ton of time, which, in my opinion, is an inefficient way to earn. And in comparison to other play-to-earn apps, you actually have to spend A LOT more time on the Golf Cash app because you first have to play your own game to earn, and then you have to play other games to be able to withdraw.
That is very ineffective and an extra step I have not seen in other apps, which basically makes it a waste of time, in my opinion.
But as I've said earlier, the game is actually quite fun, so if you are looking for a golf game, you can give this app a shot. You just have to temper your expectations in terms of earning potential.
Who can join Golf Cash?
Golf Cash doesn't really indicate in its app which countries it is available in. But from what I can tell, this app is available more or less worldwide.
The best way to be sure is to search for it in the Android app store. If it appears among the results, that means the app is available in your country. If it doesn't, then it means Golf Cash is not available in your country.
To sign up, you must first install the app. Then, you can create your own login details or use your Google or Facebook account to sign up. After you are done with the registration process, you can log in to the app and start playing.
Can you get support?
Golf Cash doesn't have a website. Its app also doesn't have a FAQ section you can check out. So, if you have any questions about the app, you won't find any resources you can check out. The app also doesn't provide any contact form or contact info.
That's why I would say the app doesn't offer good support for its members. If you experience any issues while using the app, you will not be able to request any assistance, which is a pretty bad deal, in my opinion.
Final Verdict
Golf Cash is a GPT app that will reward you for playing their mobile game. It has a couple of good features, but it mostly has drawbacks that you need to keep in mind.
Let me finish this review by summarizing its pros and cons to give you an overview of what the app offers. Then, you can decide if you should push through or not.

Pros:
Offers payment via PayPal
The game is fun and interesting

Cons:
Limited earning opportunities offered
Low rewards
Requires an additional step to withdraw earnings
No support option
In my opinion, Golf Cash is not an app worth using if your main goal is to earn extra cash. That's because you will not be able to earn a decent amount from this app without investing hundreds of hours playing the game.
Your time will be better spent on other apps or even websites with significantly better earning potential. It also doesn't help that you have to do some more playing just to withdraw your small earnings. That's why this app, in my opinion, is a total waste of time. But if you are just looking for a decent mobile golf game, then this can be a decent option.
========================