What is Gain.gg?
Gain.gg is a GPT (get-paid-to) website that rewards users for taking surveys, watching videos, completing offers, and much more!
The platform was launched in 2018, and it's quickly building a strong reputation. 
When I first reviewed Gain.gg back in April 2019, the platform had just over 6,000 members.
1 year has passed and there are now 110,898 users who have earned a total of $361,215.5.
So, on average, each member has earned approximately $3.20, which is understandable considering most people join and don't complete any task.
Is Gain.gg a Scam?
No. I am confident Gain.gg is a legit and trusted website.
It's important to mention that, just like most GPT sites, Gain.gg has the right to ban you for any reason and at any time.
However, I don't believe they will terminate or freeze your account unless you break any rule of their terms of service, which include:
Using a VPN.
Creating multiple accounts.
Completing many offers in a short period.
Also, it feels like cheating when you complete an offer and don't get the credits. Well, that can happen as Gain.gg can hold these credits for up to 90 days at their sole discretion.
Pros and Cons
Pros
The minimum withdrawal is only 10 points = $0.01.
There are lots of opportunities.
Quick sign up.
Earn 100 coins as a signup bonus.
Earn passive income by "watching" videos.
Fast payments.
There is live chat available so that you can interact with other members.
Cons
Low pay.
You must earn 3,000 coins to unlock surveys from Theorem reach and Your Surveys.
Qualifying for surveys can be difficult.
The referral program pays only 5% commission.
Registration
Registering with Gain.gg is free and straightforward. All you have to do is sign up using either your Google or Steam account.
You will earn 100 coins (points) as a bonus for signing up, which equates to $0.10 (1,000 coins = 1.00 USD).
In the dashboard ("Earn" tab), you will see 2 different sections: Offer Walls and "Watch Videos".
Offer Walls
There are currently 6 Offer Walls, which are third-party platforms where you can find new offers and online surveys.

Each platform offers many opportunities, and some pay slightly better than others.
The availability of offers and the reward amount will also depend on your country.
If you live in the UK, Canada, or the U.S., you will find many opportunities. But regardless of the country you live in, the pay rate is usually very low.
It's rare to find offers that will put more than $3 in your pocket!
Another important thing to mention is that you must contact the third-party provider if any offer doesn't credit properly (offer wall).
Unfortunately, Gain.gg can't investigate the issue for you.
Free sign up offers
Many offers involve signing up for GPT sites or survey panels. In my opinion, those are fine because there are no strings attached.
Unfortunately, most of them pay only a few cents.
Sweepstakes offers
It's common to find "prize draw" offers that will give you coins plus a chance to win supermarket vouchers, iPhones, etc.
However, they come with strings attached.
They will pay you IF you give them your email and phone number to participate in the sweepstakes.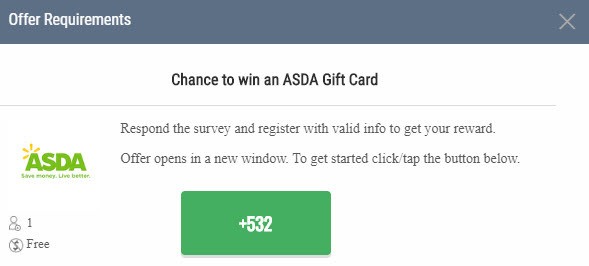 Needless to say, the chances of winning are very low, but one thing is certain:
After you provide your contact details, you will start getting marketing calls and emails from different companies.
Mobile app offers
If you are using Gain.gg on your mobile, you can complete offers that require you to download apps and play games.
Here is one example: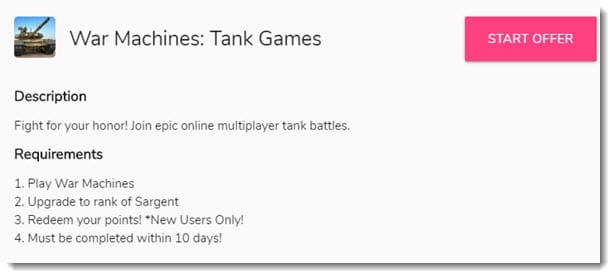 Free trial offers
Some offers require you to subscribe to free trials. Companies take advantage of GPT sites to attract potential customers to buy online TV, Music streaming, and more!
Pay close attention when completing these types of offers because you may have to use the free trial.
After you complete an offer, you can expect to receive the credits within 5 minutes.
However,  sometimes the credits can be delayed by up to 48 hours.
Surveys
Gain.gg has connected with two marketing research companies called TheoremReach and Your Surveys.
Keep in mind that you must earn 3,000 coins to unlock surveys from both companies.
Sharing your opinions by filling out surveys is easy, but it can be very time-consuming.
The problem is that you won't qualify for every survey!
Depending on your answers, you will be screened out because you won't be considered a good match. That's normal!
Marketing studies are usually designed for a small portion of the population with specific demographics and interests.
Most surveys take 10 – 20 minutes to complete and pay less than 100 coins ($1). 
I know it can be tempting to rush through surveys by randomly ticking the boxes. I used to do that when I was desperate for money!
However, survey panels perform quality checks and penalize panelists who are not taking the time to read and answer questions truthfully.
If they think you are rushing, Gain.gg will cancel the survey and even ban you from applying to new ones.
Watch Videos
In this section, you will find only one company that pays you to watch videos: Hideout.tv.
There are different categories of videos, including food, lifestyle, viral, travel, and more.
I've tested it, and I found most videos interesting and fun!
You will earn nine coins for every three videos that play in between the videos.
If you want to earn coins but not watch videos, you can leave the tab open while you use the internet or another program. You'll still get credited.
I earned nine coins after about 5 minutes, which is only 1 cent! So, it's very slow!
IMPORTANT: To redeem your video rewards, you must sign up to the video platform and link your account to Gain.gg.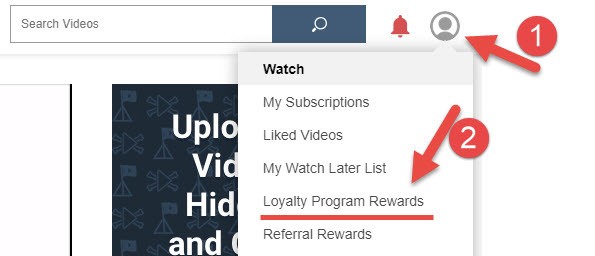 After earning at least 9 points, simply click on "rewards" and then "redeem".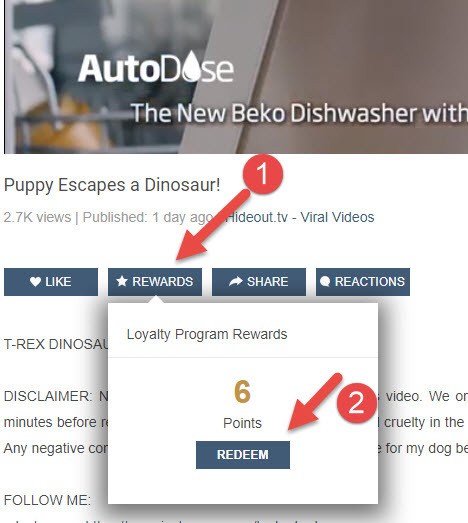 Be aware that due to high levels of fraud, hideout.tv will take 30 days to credit your Gain.gg account if you have earned more than 4000 coins.
Referral Program
Another way to earn money is by inviting other people to join Gain.gg through your referral link.
You will earn a 5% commission on all offers completed by your referrals.
In my opinion, this is not a generous referral program because most GPT sites pay at least 10%.
For example, Prizerebel's referral commission rate starts at 20% and jumps to 30% for Diamond members.
Only the other hand, a lower commission rate means that Gain.gg can afford to pay more for offers compared to other GPT sites.
How Do You Get Paid With Gain.gg
What is awesome about Gain.gg is that you can withdraw a minimum of $0.01 via PayPal and different cryptocurrencies.
Most GPT sites have a minimum cashout of $5 or more!
However, you must earn at least 200 coins through the offer walls before withdrawing for the first time.
I think no other GPT allows you to cash out such a small amount. It means you can withdraw right after completing any offer or survey.
=========================