What is Fitplay?
Fitplay is a mobile application that rewards you for downloading and playing games on your smartphone. You can also earn 25% of all your friend's coins when they install Fitplay through your referral link.
When I first tried Fitplay in 2018, they rewarded users for listening to their favorite audiobooks. At that time, I reached the minimum payout threshold of £0.50 just by listening to it for a few minutes. Now, they are only featuring mobile games.
These apps are funded by game developers and advertisers who want to gain more exposure to their apps. In return, Fitplay shares its revenue with you for downloading and using these apps. It's a win-win situation!
While you are playing a game sponsored by Fitplay, you will accumulate Coins that you can redeem for cash via  PayPal or gift cards from places like Amazon, Google Play, and Spotify.
Is Fitplay Legit? Does it Pay?
If you check the review section on Google Playstore, you will find a staggering number of negative comments. There are many reasons people are frustrated and upset with Fitplay. But these are the most common complaints that I need to share with you:
Fitplay failed to track the gameplay.
Coins were not credited correctly.
Users got banned for suspicious behavior, but the company didn't bother explaining the exact reason.
All the apps vanished from the list after an update. Now, users cannot earn Coins for the games they play.
In the app description, it says Fitplay provides fast and guaranteed payouts.

However, the Terms of Use clearly states that Fitplay doesn't guarantee any winning and that users have no right to receive the payment.
The provides does not guarantee the User any winnings. In particular, the User has no right to the payout of a certain award.
This is wrong! They cannot tell people there are guaranteed payouts when the Terms of Use clearly states otherwise.
Also, Fitplay states that they can ban a user for fraudulent activity without stating the specific reason. But what if the person didn't break any rules? Well, unfortunately, you won't be able to dispute their decision!
As you can see, the company can block your account and forfeit your earnings. The truth is that some lucky people will get paid while others won't.
The facts are exposed, so I will let you decide whether Fitplay is a scam or a legit app!
Pros and Cons
Pros
Free to join
Earn 4444 Coins just for signing up.
It's available worldwide.
Get paid through PayPal and gift cards.
No ads while playing games.
Cons
The game selection is very limited.
Many people complain that Coins are not credited correctly.
The earning potential is too low.
Unresponsive support.
The more you play a game, the longer you have to play to earn the same number of Coins. At some point, Coins will stop adding up.
It's only available for Android devices.
Your coins will become invalid if you don't redeem them within 1 year.
How Does Fitplay Work?
Installation and Registration
Fitplay is only available for Android devices, so you can download it on Google Playstore. The first step is to give Fitplay permission to use your personal data for registration and apps usage tracking.
After that, you must create a free account using your email, Google, or Facebook account. Next, enter your age and gender so that Fitplay can match you with games you are likely to enjoy.
The final step is to grant Fitplay access to your usage data so they can detect your playtime and reward you.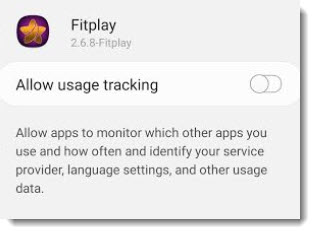 Once everything is set up, you will receive a welcome message with a signup bonus of 4444 coins. Speaking of which, let's have a look at how the point system works.
How Much are Coins Worth?
It depends on your country. If you live in the US, for example, you can exchange 4999 coins for $0.50 via PayPal. Therefore, 1000 coins equal $0.10. 
Considering you will start with 4444 coins, you just need to collect 555 coins to request your first payout.
How to Earn Coins
When you log in, you will see is a brief description of each game and the number of coins that you will earn per minute. Swipe to the right to see other games. There are not many titles, but new ones can become available at any time.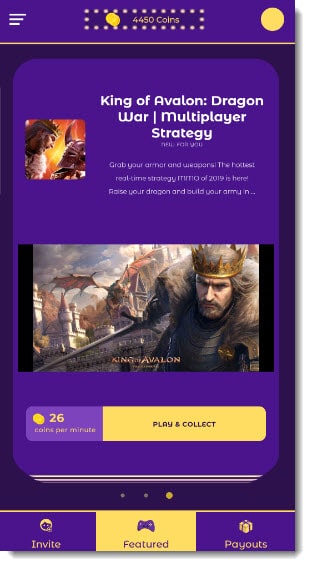 Now, click on 'Play & Collect', download the game, and start playing!
Don't be surprised if your earnings don't add up as you expected. Here is why: As you play, the time required to earn the same number of coins keeps going up. In other words, the more you play, the less you earn! 
After a few hours playing the same game, you will only collect a small percentage of the Coins used to get in the beginning. At some point, your coins will stop adding up and you will have to install another app. This happens because the ad revenue that Fitplay receives from game developers is limited.
Fitplay will allocate all the games to the 'My Apps' section. There, you will see how many Coins you will get for playing for a specific amount of time.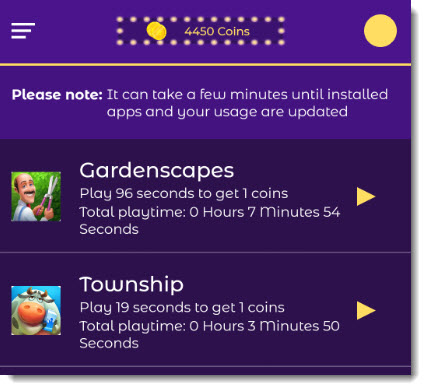 Make sure you open the game through this section so that Fitplay can record your gameplay. Otherwise, you won't get credited!