What is Fitplay and what does it offer?
Fitplay is a Gt-Paid-To (GPT) app that will reward you for playing mobile games and participating in the other earning opportunities it offers. And yes, it is indeed a legit app since you will really get paid for playing games, among other things.
But the question is, is it worth it?
Well, the first step to answering this question is to understand how the app works, and the best way to do that is to examine the earning opportunities it offers. So, here's how to earn from Fitplay.
Option 1 – Playing the featured games
The primary way to earn from this app is to play the mobile games Fitplay features. When you log in to the app, you will immediately see all the featured games (refer to the photo below).
Just choose which game you want to play and press it. If this is your first time doing this, the app will prompt you to allow it to track your data usage. Make sure to enable data usage tracking for Fitplay because this is what will allow you to earn coins while playing the featured game.
When you've chosen the game you want to play, you will be asked to install it. Once it is installed, you have to go to the Fitplay app and go to the My Apps section. The game you installed will now be listed in the section.
Press the game under the My Apps section to open it. Then, just play the game like you normally would. Opening the game through Fitplay is very important, so make sure to do this every time you play a featured game.
As for how you will earn by playing the featured game, every time you level up in the game, you will receive coins. However, just be aware that the longer you keep playing a certain game, the fewer coins you will receive.
This is by design because Fitplay gets paid for every person that plays a featured game. So naturally, they will earn more if more people play different games, and the best way to do that is to discourage people from playing just one mobile game.
This is why you will receive fewer and fewer coins the longer you play a specific game. It will even reach the point where you will not earn anything from a game anymore. So, if you want to maximize your earnings, you'll have to switch games when you earn a very small number of coins.
Option 2 – Paid offers
Another way to earn from this app is to work on their paid offers which are just short tasks you can complete to earn rewards. There aren't a lot of paid offers available, so don't expect to earn a lot from this opportunity.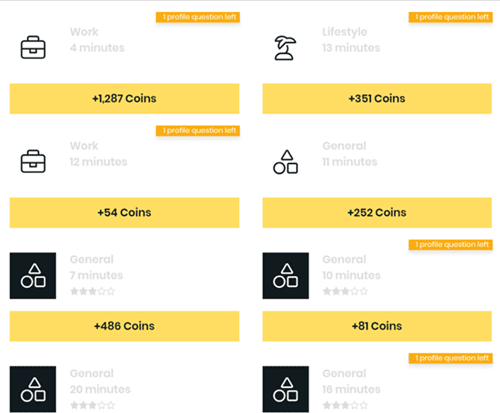 Most of the time, these offers ask you to answer surveys or sign up for a different mobile app. Once you can complete an offer, you'll receive the reward promised.
When I was testing the app, most of the offers I encountered were survey offers. I had to first share a few basic information before the app displayed all the available surveys. Then, when I answered a survey, I had to go through a qualifying process first.
This is typical with survey offers, though. There is usually a qualifying process to determine if you belong to the demographic group the survey is intended for. Once you qualify, you get to answer the survey. If you fail to qualify, you just have to move on to the next survey available.
The one thing you need to remember with their paid offers is that the availability will depend on your location. Normally, based on my experience, there will be a decent number of offers for people who live in the US, UK, and Canada. For other countries, it will be significantly less.
Option 3 – Referral Program
Lastly, you can also earn more coins from Fitplay's referral program. If you don't know what a referral program is, it is an earning opportunity designed to promote the app.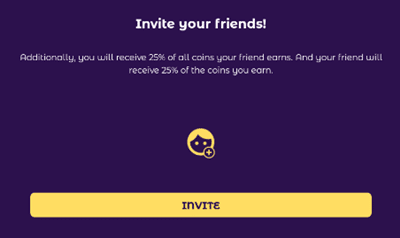 The idea is that you invite people to install the app and play the featured games or complete the paid offers. The method of inviting people will be dependent on the communication apps you've installed on your mobile device.
For example, if you installed Facebook Messenger, you can invite people through that app. Once your invitation is accepted, and the person installs the app and registers, they will become your referral.
You will then receive a 25% commission every time your referral earns. The good thing is that this goes the other way around too. Your referral will also receive a 25% commission every time you earn coins.
But just make sure the people you invite are really interested in using the app. Otherwise, you don't earn anything.
How do you get paid?
As mentioned above, every time you play a featured game or complete an offer, you will earn a certain number of coins. But what can you do with the coins you've earned? Well, you can use them to redeem rewards.
You can convert the coins to cash via PayPal. You will need to earn at least 2,000 coins to do that, but this can vary from country to country. As for how much 2,000 coins is worth in actual money, that will depend on your location because the currency that Fitplay will use will depend on where you live. Usually, the app will be set to your local currency.
When I tested the app, 2,000 coins were worth around $0.20. The conversion rate of coins to cash is also not fixed. You would think that to earn $1, you will need at least 10,000 coins. However, when I checked their conversion rate, $1 only requires 9,701 coins.
So, it's actually quite hard to determine the exact value of the coins you've earned. Aside from converting your coins to cash via PayPal, you can also redeem various gift cards. Just be aware that the type of gift cards you can redeem will also vary depending on your location.
How much money can you make?
The amount you can earn from an app like Fitplay will not be much; I can tell you that much. Based on my experience, this kind of app doesn't have a good earning potential. You will need to spend a lot of time to earn a decent amount from this app.
The fact that every featured game offers diminishing returns makes it a less-than-ideal option to earn extra cash from, in my opinion. Plus, most of their paid offers will only reward you around 100 to 500 coins (again this can vary from country to country), which won't be much if you convert it to cash.
The only value this app can truly offer is it can serve as a decent way to burn some extra time because you can find some decent mobile games. But if you are mainly looking to earn, your time will be better spent on sites and apps with higher earning potential.
Can you use it on a desktop?
Fitplay is a mobile-only app, so you will need a mobile device to earn from it.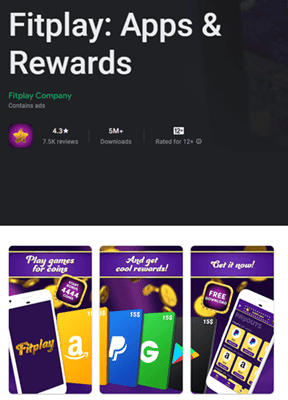 The app is relatively user-friendly. You will not have a hard time getting used to navigating it. You also won't encounter any surprise pop-up ads while using the app, which is a good thing, in my opinion.
Who can join Fitplay?
The app doesn't tell you exactly which countries it is available in. But from what I can gather, this is app is available more or less worldwide. The best way to find out if it is available in your country is to search for it on the Google app store.
If it appears in the search result, it is available in your country. If it doesn't, then it isn't available.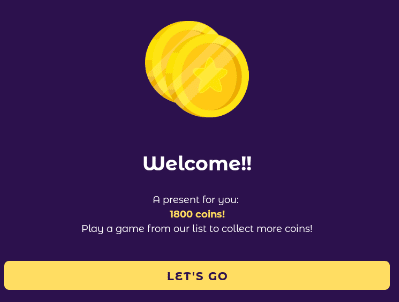 To register, you first have to install the app. Then, you can use your Google or Facebook account to sign in. You can also just create your own login details.
After you've registered, you will be logged in to the app immediately. You will then see a notification for the joining bonus you will receive. As shown in the photo above, you will receive 1,800 coins (however, this number may vary depending on the country you live in) just for signing up. It's not much, but at least it's something free.
Can you get support?
If you have any questions about the app, you can check out the Info & Help section of the app. It discusses some basic topics you need to know about the app. But if you can't find the answers you are looking for, you'll have to get in touch with their support team.
Unfortunately, the app doesn't provide a contact form or even an email address for you to contact. I had to check their Google Play page to get the email address of their support department. To contact their support team, you can email them at support@fitplay.info.
I do have to warn you, though, that Fitplay.info doesn't exist anymore. So, there's a good chance this email address is also not working.
Overall, I would say the app doesn't provide good support for its members since they don't offer an easy way for you to communicate with their support team. They do provide an email address on their app page, but I doubt that it is still working because the domain name doesn't exist anymore.
Final Verdict
Fitplay is a GPT app that will reward you for playing mobile games and completing offers. It offers a couple of decent features, but it has a few drawbacks you need to know.
Let me wrap up this review with a summary of its pros and cons to give you an overview of what the app offers. Then, you can decide if it is really worth using or not.

Pros:
Offers payment via PayPal
The app is user-friendly

Cons:
Limited earning opportunities offered
Low rewards
Doesn't provide good support
In my opinion, Fitplay isn't an app worth using mainly because it doesn't have good earning potential. For a GPT app, its earning opportunities are quite limited, plus the rewards it offers will be quite low.
You will have to spend a lot of time just to earn a few extra dollars from it. You are better off investing your time on sites or apps with higher earning potential to earn efficiently.
========================