What is Current and what does it offer?
Current is an app that will allow you to earn by simply listening to music from the app. The logic is, the more you listen, the more you earn. It does also offer other ways to earn.
And in order to fully comprehend how well you can earn from this app, we have to take a closer look at the earning opportunities it offers.
I have created a video that gives you an inside look and shows exactly how you can earn from Current. You can also read all the details bwlow the video:
Option 1 – Play music
As the app promises, you will be able to earn points by simply listening to any of the radio stations found on the app.
When you first log in to the app, you will be asked which type of music you listen to.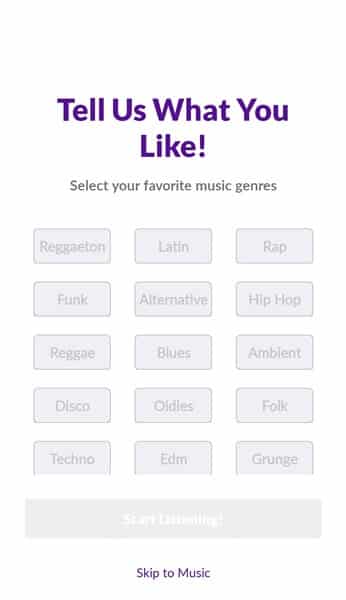 You just have to choose which type of music you are in to. This will help the app figure out which radio stations to suggest to you for listening.
Before you start listening, you will have to allow the app to display over other apps. This means the app will continue running in the background even if you close it. This is very important because this will allow you to earn points while playing music.
When you give permission to the app, what happens is, Current will always run in the background. While the music won't be playing, the app will still be running. It will even take over your lock screen. Think of it as the equivalent of the "Always on top" option on a computer.
Now, as for the number of points you will earn while listening, they don't explain exactly how their point system works.
The points you will earn will depend on your location, how long you stream the music, and the station you listen to. So, it's really difficult to gauge how many points you can earn just by listening to music.
But we will go more into the full earning later.
During the media playback, you'll encounter several opportunities to generate points. Sometimes, the screen will inform you that you can complete a survey or offer to earn more points. So, if you want to earn more points, make sure to stay alert when the opportunity arises.
But it is also perfectly fine to just let the music play while you do other things. You can still earn points from listening anyway.
Option 2 – Paid offers
Seeing as there are no clear guidelines on how many points you can earn from listening to radio stations, it's a good thing that Current also offers other ways to earn points, namely paid offers.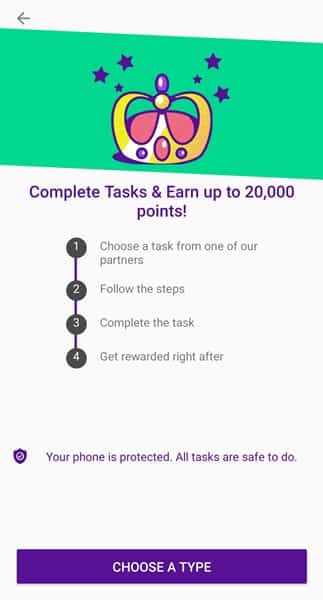 Most of the paid offers found on Current will ask you to sign up for a website, answer a survey or quiz, play a game. Now, in my experience, this type of earning opportunity is what will typically help you earn rewards on a regular basis.
That's because usually, there will always be a paid offer you can do. That, at least, ensures you can earn points every day. Now, each offer will have a certain set of instructions you need to follow to receive the reward.
So, make sure to follow the instructions down to the letter. Otherwise, you might not complete the offer and therefore won't earn the reward.
Also, the paid offers you will find in the Current app are from advertisers that have partnered with them. So, don't be alarmed if you are taken to another website while doing paid offers.
Option 3 – Paid surveys
Another way to earn more points on Current is by answering surveys. This earning opportunity is typically found on survey sites.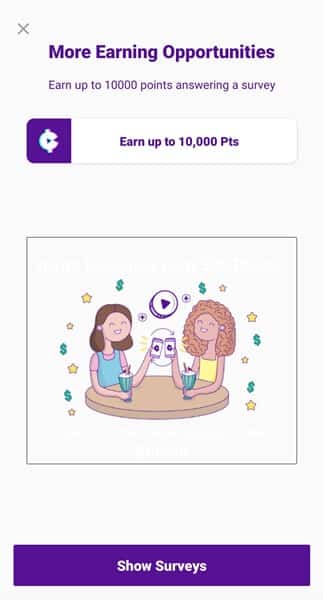 The premise is really simple. If you see an available survey, simply click on it and it will take you to the survey page.
First, you will have to answer a set of qualifying questions so that whoever is hosting the survey can determine if you belong to the demographic the survey is targeting.
If you qualify, you get to answer the actual survey. If you don't, then you just have to move on to the next survey.
After you've completed the survey, you will receive the reward promised. The good thing about answering surveys is, it's a fairly straightforward way of earning rewards. Plus, in my experience, it usually rewards more than paid offers.
The downside is, there aren't as many available surveys as paid offers. Also, the surveys offered won't come from Current, but from other sites that have partnered with them.
So, don't be surprised if it takes you to another website.
Overall, I think paid surveys are a great way to earn a bit extra and have your opinion heard – but Current is just not the best option for this particular earning method, in my opinion.
Option 4 – Watch videos
You can earn additional points by simply watching videos. This is a fairly straightforward opportunity to earn points but it will not always be available.
You have to finish watching the video though to earn the points. This will usually last around 30 seconds to a minute and most of the videos you will be watching will be ads.
However, in my experience, this is not the most profitable earning opportunity. Typically, watching videos won't really earn you a lot of points. So, don't expect to earn a lot from it.
I would suggest you only do this if you don't have anything else you can do in the app since this won't be the best use of your time.
Option 5 – Referral program
Another way to boost the points you've earned from Current is to invite people to join the platform. When you invite a person to join and they complete the sign-up process, they will become your referral.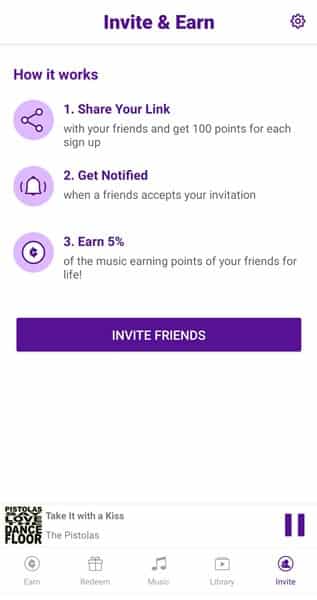 You will then earn 100 points for each person you successfully invite to the app. Plus, you will earn 5% of what your referral will earn from listening to music.
Take note that the commission you will get will be based on the earnings of your referrals from listening to music and not from answering surveys and completing offers. It's not a lot really and not really a great referral program compared to many other but it can serve as a nice supplement to what you can already earn from the app.
Personally, I like the fact that you will earn 100 points right away when a person you've invited becomes a member of the app.
But as we will go into later, 100 points is just not a lot so it will require you to invite A LOT of friends to make any real money like this.
Option 6 – Daily bonus
Every day you log in to the site will earn you a certain number of points. It's also not a lot but it can still help you accumulate more points in the long run.
And considering you don't actually have to do anything else to avail of this bonus, it really is just a nice benefit to becoming a member of the app.
How do you get paid?
As you already know, Current uses a points system for their rewards. You can then exchange the points you've earned for certain rewards.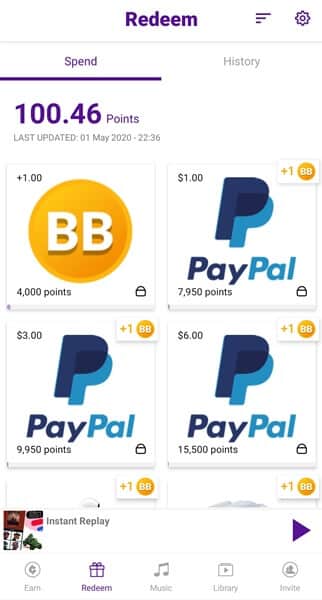 You can, for example, get products like fitness watches, earphones, projectors, and even drones. Plus, you also have the option to convert the points you've earned to cash via PayPal.
However, their conversion system is a bit confusing because it's not fixed. If you want to convert your points into $1 (which is the smallest amount available) via PayPal, you will need 7950 points. If you want to convert it to $3, you will only need 9950 points.
So, it's a bit staggered and you really can't tell how much your points are worth. But I do like the fact that you can withdraw your earnings once you've earned $1. It's a very low payout threshold.
How much money can you make?
Technically speaking, Current acts as a Get-Paid-To (GPT) app. And with GPT apps, the amount of money you can earn will mostly depend on how active you are on the app.
The more offers and surveys you complete, and the more music you listen to, the more money you can earn. The other factor that can affect your earnings is how well they pay.
In this regard, since you really can't measure exactly how many points you can earn from listening to music, the only other barometer will be their other earning opportunities.
Their paid offers don't really reward you that well since most offers will only reward you with less than $0.5. So, before you can earn a significant amount, you will have to complete a lot of offers and surveys.
That's why I would say that Current doesn't have a high earning potential. You will have to invest a lot of time just to earn a decent amount. But it can still serve as a decent secondary site to earn from, in my opinion.
Can you use it on a desktop?
Current is a mobile-only platform. So, you can't use a desktop or laptop to earn rewards. You will have to use your mobile device.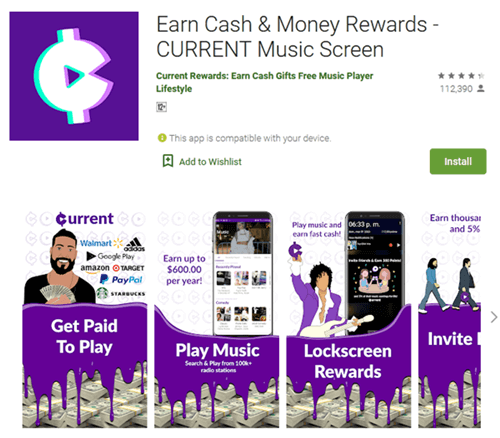 Fortunately, their app is available for download on both Android and iOS app stores. So, you won't have any problems with compatibility.
Their app is also user-friendly and the user-interface is intuitive. Plus, you can record songs that you like so you can listen to them even when you are offline (no internet connection).
The one thing I noticed about the audio quality of the songs that are playing is, it isn't as good as say Spotify.
The quality is more like when you are listening to the radio. So, if you are quite particular with the audio quality, this app will be a bit of a letdown.
Who can join Current?
The app is available globally. So, you can download and sign up as a member anywhere (as long as you have an internet connection of course).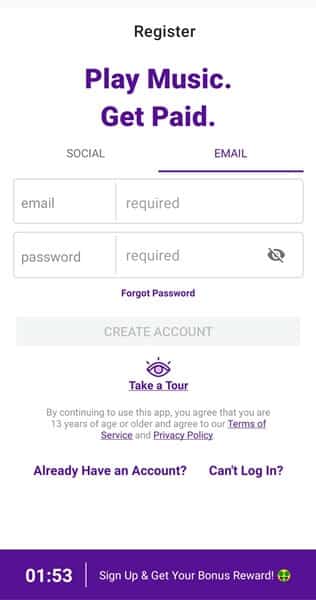 Signing up is also pretty easy. You can choose to sign up using your Facebook account or you can provide your own login details.
Once you are done with the sign-up form, you just have to confirm your registration by clicking the confirmation link in the email they will send you.
One thing to note, if you want to withdraw your earnings via PayPal, you will have to be at least 18 years of age or older to do so. That's the age requirement to sign up for a PayPal account. So, consider that before you sign up as a member of Current.
Can you get support?
The good thing about Current is, it has quite a big compilation of FAQs. So, if you have any questions or if you are experiencing an issue with the app, you can always check their FAQ page first. You might find the answer you are looking for.
If that fails, you can always submit an inquiry to their support team. Just click the Submit ticket link on the upper right-hand corner of their support page (refer to photo above).
You can also track the status of your inquiry or view your previous tickets through their ticketing system. This is especially useful if you experience the same problem again and you forgot how to resolve it.
Overall, I would say that they do provide decent support for their members. It's a good sign because it shows that they do care about the overall experience of their members when using their app.
Final Verdict
Current is a legit GPT app that will allow you to enjoy music and at the same time, earn a bit of cash. It has a couple of nice features to offer and it also has certain drawbacks.
So, let me wrap up this review by summarizing its pros and cons to give you a better overview of what the app has to offer.

Pros:
Available globally
Payment via PayPal is available
Low payout threshold
User-friendly

Cons:
Low rewards
Their reward system is a bit confusing
Audio quality isn't that great
If you are looking for an app that will allow you to listen to good music and earn extra cash as well, Current is definitely an app you can use. This, in my opinion, is their main selling point. But if all you are really after is the earning part, then you are better off using other apps instead.
That's because you won't really earn a significant amount from this app without investing a lot of time. That being said, Current can still be a decent app to use to earn extra cash. Just don't expect to earn a lot from it.
=======================