What is Cointiply?
Launched in February 2018, Cointiply is a combination of GPT (get paid to) site and bitcoin faucet!
In short, a bitcoin faucet is a platform where you get paid satoshis (1 satoshi = 0.0000001 Bitcoins) for loading webpages with ads.
As for GPT, it's a website where you get rewarded for taking surveys, completing offers, watching videos, playing games, inviting friends and more!
Cointiply is somewhat similar to hundreds of GPT sites that exist on the internet.
The main difference is that it pays via Bitcoins and has some interesting ways to multiply your coins, hence the name Cointiply.
At the moment of writing this review, Cointiply has 674,091 users who have earned a total of 165.04203742 Bitcoins.
Currently, that equates to $1,422,153 USD!
Is Cointiply a Scam?
In my opinion, Cointiply is a legit website that has been running since early 2018.
If you check out the user reviews on Netbusinessrating, you will see hundreds of income proofs, which for me, is enough evidence that the site does pay.
On Trustpilot, Cointiply has been rated 4 stars, and many people are recommending the platform
On the other hand, there are also people who claim Cointiply is a scam as they got banned and didn't have the chance to cash out.
One person said he was banned due to suspicious activity only after trying to cash out his balance.
He said he logged into his account from a hotel's wifi, which might use VPN. So, apparently, it was not his fault!
However, instead of detecting the problem straight away, Cointiply let the user complete tasks and waited until he was cashing out.
There are other people who complain about getting banned as well as payment issues.
So, if you want to use Cointiply, do so from your own device and internet connection. Also, don't forget to disable your VPN if you have one.
Unfortunately, errors and mistakes can happen and there are no guarantees that you will get paid!
Pros and Cons
Pros
Earn 100 coins as a signup bonus.
There are 20 offer walls and lots of opportunities to earn coins. It's a HUGE platform!
Claim free coins hourly with the Cointiply faucet.
Earn 5% annual interest if you have more than 35,000 coins in your account.
It's available worldwide.
Cointiply is available as an app for android devices.
Quick registration process.
No withdrawal fees.
Cons
The pay is very low.
Reaching the minimum withdrawal amount takes a long time unless you complete high paying offers.
The bitcoin price can drop before you have a chance to exchange for USD.
How Much Are Coins Worth?
Whenever you complete a task on the site, you will earn coins that you can redeem later for BTC or use in the Cointiplay game.
Currently, 100 coins are equal to 0.000001 BTC (approximately $0.01 USD).
The value of a coin can increase or decrease over time depending on the Bitcoin price.
Therefore, there is a possibility of winning as well as losing money due to market fluctuations.
Registration
The registration is free and straightforward.
You can create a free account by providing your email and clicking on the "Start Earning Now" button.
Then, complete the registration with your first name, and choose a password.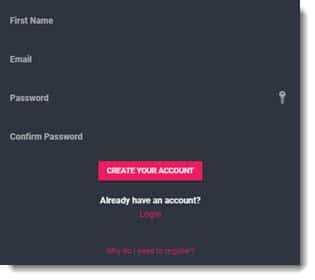 The last step is to verify your email account by clicking on the link provided by the company.
You will earn 100 Coins instantly by clicking that link.
It's important to highlight that Cointiply doesn't allow you to create multiple accounts nor use VPN (virtual private network) to mask your IP.
I have been banned from a couple of GPT Sites because I forgot to disable my VPN.
Earning Coins
After you log in, you will see the dark Cointiply dashboard.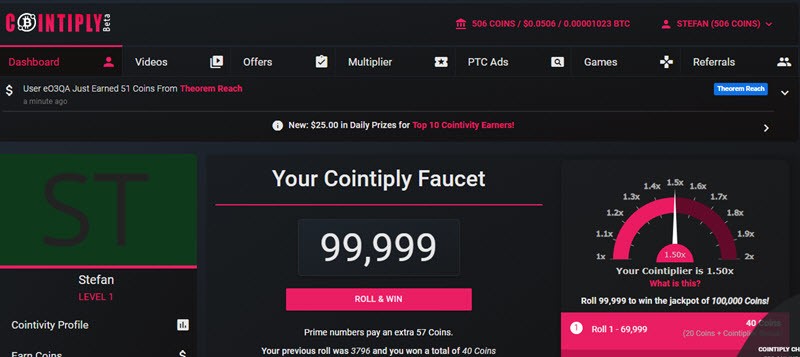 As you already know, there are many ways you can earn Bitcoins inside Cointiply.
With so many options to choose from, it can be overwhelming in the beginning!
But don't worry…
My mission is to break down all the main ways to earn, so let's get started with the Cointiply faucet!
Cointiply Faucet – Claim Free Coins Hourly
The first thing you will notice when you log in is the main Cointiply Faucet, which gives you free coins every hour.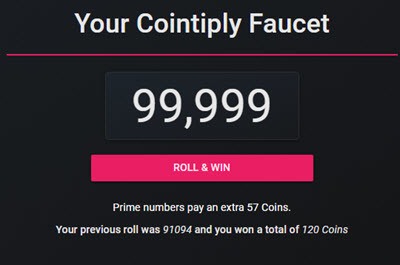 Simply hit "roll and win", and a random number from 1 to 99,999 will show up on your screen.
Here are the prizes you will get according to your roll number:
1 – 69,999: 22 coins.
70,000 – 89,999: 36 coins.
90,000 – 96,999: 70 coins.
97,999 – 98,999: 130 coins.
99,000 – 99,998: 280 coins.
If you are lucky enough to roll 99,999, you will win the jackpot of 339,048 coins (approx. $339).
It's important to mention that these faucet values depend on your multiplier rate.
All members start with a 1.5x multiplier, which can rise or fall depending on how active they are on the platform.
The more you engage with their services by completing offers, surveys, etc., the higher your multiplier.
Watch Videos 
The easiest way to earn coins is by playing videos via Hideout.tv and VideoFox.
Hideout.tv will give you 51 points for every 3 ads that will be displayed between videos.
Keep in mind that Hideout.tv only works for residents of Australia, Canada, Germany, the United Kingdom, Ireland, Netherlands, Norway, New Zealand, Sweden, and the U.S.A.
As for VideoFox, it only works for U.S. residents, who will earn 121 coins for every 20 minutes.
The reward is very low, so don't expect to earn a lot of money from videos.
The cool thing about it is that you don't have to sit in from of your computer and watch the videos.
You can let them playing and accumulate coins while you are doing something else.
Complete Offers
Cointiply has partnered with 20 offer walls, which are third-party platforms full of opportunities to earn coins.
Popular offer walls include Pollfish, Adscend Media, Tap Research, Adgate Media, Theorem Reach, Minute Staff, and Revenue Wall.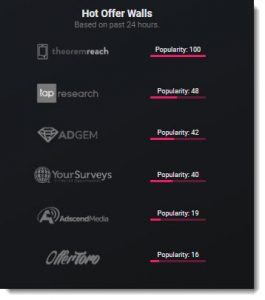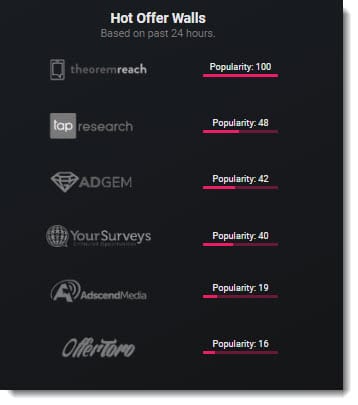 You will find many surveys, free trials, free sign-ups, offers, mobile apps and more!
I am not a fan of offers that ask my phone number as I have to agree on receiving marketing calls.
Using an alternative number is an excellent strategy to avoid inconvenient calls, but the problem is that some offers only accept landline numbers.
Also, I'd avoid offers that ask to make a deposit because you never know if Cointiply will pay you back.
View Ads
In this section, all you have to do is view the ad for a few seconds to earn around 6 – 13 coins.
For less than 13 coins, I wouldn't bother clicking on these ads.
Play Games
Play any game from a vast selection and earn 30 coins every time your activity bar fills up.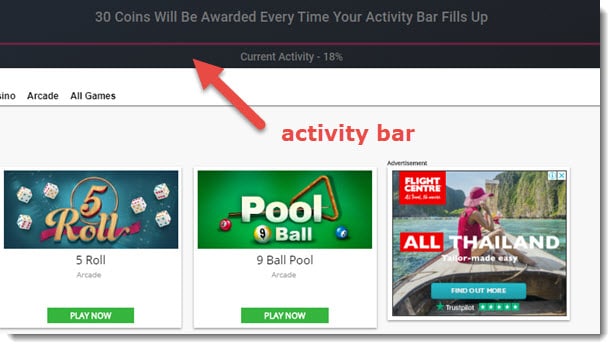 Before you play a game, make sure you do not have an adblocker active.
The reason is that ads will show up during the game in order to pay for your time.
Sometimes your activity bar can get stuck. If that happens, open a new game and continue playing.
Multiplier – Cointiplay
Cointiply is a game that you can play to multiply your coins. 
First, you need to choose how many Coins you would like to wager (10 to 50,000).
Every time you select the right target (red Gem cluster), you will earn the number of coins you wagered times the multiplier rate.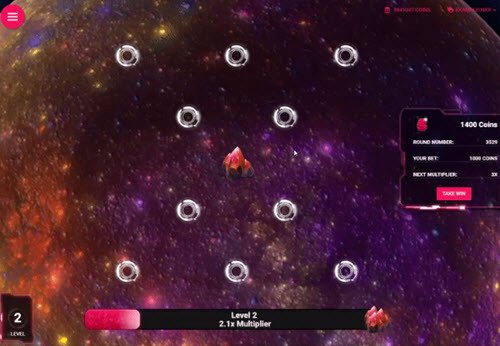 The multiplier doubles every time you select the right target, so you have the potential to make as much as 613 Coins from a 10 Coin wager.
You can stop at any level and take your wins or keep trying. If you select the wrong target (red Gem cluster), you will lose everything.
I played this game a couple of times as it's very addictive. Unfortunately, I lost more coins than I won, so I suspected Cointiply had the edge in this game.
After reading about Cointiplay on the website itself, I discovered that there is a 68.7% chance of winning Level 1 and a 66.7% chance of winning each one of the other levels.
However, they do have an edge of approximately 3.75% on the first 2 levels, which means the more you play, the more coins you will lose in the long term.
If you are spending a lot of time on the platform taking surveys and completing offers, you should not bet your coins in this game.
The odds are definitely against you!
Referral Program
Cointiply's referral program could be better!
You will earn 25% of all your referrals faucet claims and 10% of everything your referrals earn by completing offers.
You can refer unlimited users by sharing your referral link on social media, forums, etc.
Extras
Earn 1% loyalty bonus every day you log in and make a faucet claim.
Earn 5% annual interest if you have at least 35,000 coins in your account. You can also make a deposit to reach 35,000 and start collecting interest. You can withdraw anytime!
Increase earnings by improving your Cointiply profile (leveling up, collecting items, etc.).
Cointiply App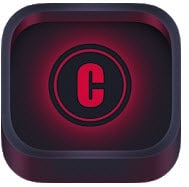 In November 2019, the company launched the Cointiply app available for Android devices.
Since then, the app has been downloaded more than 100,000 times on the Google Play store and received excellent feedback from users.
The advantage of using the app is that it provides the same opportunities to earn Bitcoin from your phone.
Withdraw
Currently, you can withdraw Bitcoins to the following wallets:
Bitcoin Wallet – The minimum requirement is 100,000 Coins ($10), and the payment is processed once a week, usually on Sundays.
DOGE Wallet – The minimum requirement is 35,000 Coins ($3.5), and the payment processed within 24 – 72 hours.
FaucetHub – The minimum requirement is 50,000 Coins ($5), and the payment processed within 24 – 72 hours.
Faucethub is a good option because you can exchange BTC to USD without fees.
==========================