Cashyy is another loyalty app for gamers operated by a German company called JustDice.
The application rewards users for installing and playing sponsored games on their Android devices.
This reward platform is going viral! Cash out via PayPal, Visa, Gift Cards, and in-game currencies
Cashhy has been installed over 100,000 times and rated 4.2 out of 5 on the Play Store. It seems great, but the overall rating should not be the only factor when deciding to install any reward app. The reason is that it doesn't reflect how most people feel about making actual money with it.
How Does Cashyy Work? 
It's pretty simple! App developers advertise on the Cashhy platform and pay fee whenever someone installs and plays their games. Then, Cashyy simply shares a percentage of their revenue back to the users who complete the missions.
Installation 
To access the list of game offers, you must complete these simple steps:
Answer the question; Ar you male or female?
Read and accept the Terms of Use.
Sign in with Google or Facebook.
Allow usage tracking so that Cashyy can track your playtime. Without activating this permission, you won't get paid.
Once you complete your registration, you will earn your first 9444 coins!
How to Earn Coins?
Collecting coins with Cashyy is very straightforward! When you select a mission, the app will direct you to the Play Store so you can install the game.
Next, play the game until you meet the offer requirements. For example, one mission requires that I install Dragon City and play 5 minutes for 3 days. Once I complete this offer, Cashyy will give me 1888 coins plus extra coins per minute of gameplay.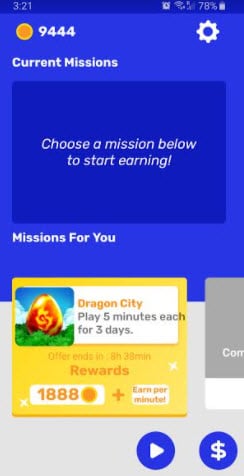 There are some quick missions in which you must play a game for just 1 minute. However, the reward is significantly lower! Keep in mind you must complete first missions to unlock new ones.
Invite Friends
You can invite your friends to use Cashyy and earn 250 coins plus 25% of all the coins they earn. The person must sign in using your invitation link. In turn, your friend will also earn 25% of the coins you earn.!
How Much Money Can You Earn? 
It takes a long time and a lot of patience to cash out $5. You may have to install several games and use Cashyy for weeks before you can withdraw the money to your PayPal account.
The number of coins that you can earn per game is limited and set by the provider. Some games award coins per minute, but the more you play, the fewer coins you will earn. The main problem with the Cashyy app is that it may not let you withdraw more than once.
How do You Get Paid? 
Tap the cash icon at the bottom of the screen and follow the instruction. You must provide your PayPal email and a selfie. It's important to know that you can only request a payment after you have collected enough coins.
The payout threshold depends on your country, and can change anytime. For example, you can cash out £5 if you live in the UK and 866.18 pesos if you live in the Philippines. Keep in mind that Cashyy pay out in Euros regardless of where you live because the company is from Germany. You can simply convert EUR to your own currency inside PayPal.
Cash payments can take up to 5 business days, whereas gift cards can take up to 7 business days.
Is Cashyy App Legit? Does It Pay? 
As with other JusdDice apps, there are mixed opinions about Cashyy on the Play Store. Lots of players agree that it's a legit company, as they received the payment with no issues. That's reassuring! However, Cashyy disappointed many users who could not withdraw one or multiple times.
=======================