This reward platform is going viral! Cash out via PayPal, Visa, Gift Cards, and in-game currencies 
Cash Giraffe is an Android app that pays users to install applications and play games on their Androids.
You will get diamonds after you complete a level or any other task required by the offer.
You can also get paid by sharing your opinions with a marketing research firm like Bitlabs or TapResearch.
Since JustDice operates the app, you will have a similar experience to their other apps like App Flame, Cash'em All, and Greedy Dragon.
That means you'll have access to the same games and prizes.
Cash Giraffe allows you to cash out via PayPal once you have accumulated enough diamonds worth $0.20.
At the time of writing, the app has been installed over 50,000 times and rated 4.4 stars on Google Play.
How Does Cash Giraffe Work? 
Installation and Registration
You can install Cash Giraffe for free on your Android device through the Play Store.
When you first launch the app, the developer will request that you read and accept its Terms of Service.
Among other things, it claims to collect your selfie to ensure that bonuses are not sent to automated and fraudulent accounts.
After clicking "Accept," you must select one of the three login options—Facebook, Google, or email.
Then, you will be asked to grant Cash Giraffe access to your usage data, which allows them to check how long you are playing a specific game.
It's pretty simple! Just tap "grant," select the application from the list, and activate "Allow usage tracking."
Next, you will get a welcome gift of 1800 gems worth $0.18. That will help you quickly achieve the minimum cashout requirement of 200 gems ($0.20)!
How Much are Gems Worth? 
It depends on your currency. For instance, in the USA, 1000 gems are equal to $0.10 or the equivalent in your country.
How to Collect Gems? 
The primary method of earning gems with Cash Giraffe is to install and play a featured game.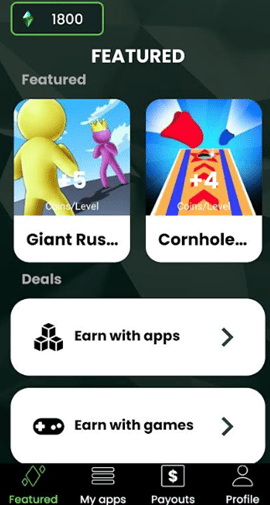 You will be redirected to Google Play to download the app, which will become available through the "My apps" section.
Make sure to launch the game via Cash Giraffe so that the company can track your playtime and reward you accordingly.
Like previous JustDice applications, you will earn gems per minute of gameplay.
However, it will eventually switch to gems per level, making it harder to accrue enough cash rewards.
It's important to note the advertisers have a limited budget, which means you will stop earning gems after playing it for a while.
The truth is that you will play a game for hours only to make a few pennies!
Cash Giraffe also features two sections where you can earn diamonds by trying other games and applications: Earn with apps and Earn with games.
These offers work somewhat differently than the featured games. To get credits, must read the instructions and fulfill all conditions.
Some of these offers require you to make an in-app purchase or subscribe to a free trial before earning gems.
How do You Get Paid? 
You can transfer a minimum of $0.20 to your PayPal account after accumulating 2000 gems.
Since Cash Giraffe gave you a welcome bonus of 1800, your initial payout will require 200 gems!
You will get a small exchange discount if you choose to redeem a higher amount. For instance, to redeem $2, you will need 18,826 gems rather than 20,000.
Remember that your payment will be processed in Euros regardless of your country. That's because JustDice is a German company.
Therefore, all you need to do is convert it to your currency inside PayPal. It's free!
Don't forget you must take a selfie before any payouts are made.
This is required to ensure that the welcome bonus was delivered to a single person rather than someone using multiple accounts.
Is Cash Giraffe Legit? Does It Pay? 
Yes, Cash Giraffe is 100% legit! Lots of people reported receiving their money quickly into their PayPal accounts.
However, like their other similar money-making apps, not everyone has had a positive experience.
Some users claim the app is not giving them credits properly, while others complain about missing payments.
You may be disappointed with the low pay and lack of games. But expecting big money in return for little effort is an illusion.
As far as I know, the developer doesn't claim the app can give you lots of money. Otherwise, that would be considered a false advertisement.
But there is something important you should know about any money-making app, including JustDice's.
The company doesn't guarantee the user any winnings. Therefore, even if you haven't violated any rules, you still risk not getting paid.
=======================