What Is Bitcoin Pop?
Bitcoin Pop is an addictive bubble shooter game developed by an American company called Bling.
You can play any of them using your Bling account to accumulate points. Then, you can cash out via Bitcoin straight to your Coinbase wallet.
How Does Bitcoin Pop Work?
Installation and Registration
Bitcoin Pop is only available for Android users. After launching the app, tap on "Get Started" and sign in using your Facebook, Google or email account.
You can play the game without an account, but in that case, you won't collect coins redeemable for Bitcoin.
How to Play?
Aim and shoot towards the bubbles of the same colour. Some of them have a soda symbol.
The goal is to pop all the sodas and pass the level before running out of bubbles.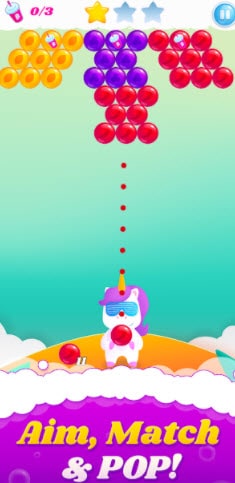 The game is over if you run out of balls. Therefore, you must be strategic and precise, especially after level 10.
Whenever you complete the level, you will earn Bling Points. Then, you must tap play and perhaps watch a video to continue.
Unfortunately, the game stops after you a while and you have to wait for around 7 hours, which is a bummer.
Is Bitcoin Pop A Scam? Does It Pay?
Bitcoin Pop is, without a shadow of a doubt, a legitimate application. Yes, it does pay!
I have personally cashed out and received the Bitcoin in my account within 24 hours.
Lot of players have a positive experience not only with Bitcoin Pop, but also their other games as well.
There are two fundamental problems with Bling games:
Coins are worth very little money.
The number of coins earned after each level fluctuates, and can drop significantly.
Nevertheless, I have to praise the company for being honest regarding cash rewards.
If you check the app description, it says it takes a long time to earn a meaningful amount of BTC. Most people only make fractions of a cent after converting bitcoin to USD.
How Much Money Can You Make?
Earning $1 worth of BTC may require that you play the game consistently for at least a month. It's crazy!
In the beginning, you will earn anywhere between 3000 – 4000 Bling points per level. However, there are reports that Bitcoin Pop decrease your rewards over time.
One user said his earnings dropped to 70 – 100 points after a few days.
Aso, you may get fewer points depending on your location. For example, if you live in a country where advertising is cheaper, the company cannot afford to pay the same.
The conversion rate is extremely low!
3.000 points = 0.00000003 BTC or 0.0012 USD.
Therefore, you may have to pass 10 levels to make a penny! 
The good news is that you will always collect points whether you win or lose. But, as Bling said, it takes a very long time to accumulate a meaningful amount of money.
How Do You Get Paid? 
The cool thing about Bitcoin Pop is that there is no minimum requirement to cash out. To receive your payment, you only need to provide your Coinbase email.
If you don't have an account, visit their website here and sign up for free. It's quick and easy!
Pros And Cons
 

Pros
It pays!
Get paid via Coinbase.
Fast payments.
There is no payout threshold.
Nice graphics.
Cons
The conversion rate is incredibly low.
After playing for around 30 minutes, you need to wait for over 7 hours to continue playing
You can only cash out once every 6 days.
The videos are annoying, but that's the only way the developer generates revenue to pay users.
There are some glitches.
==========================