What Is AdsRepay? 
Founded in 2019, AdsRepay is an online reward platform where you can earn points by completing incentive campaigns from 3rd party advertisers.
Some of the most common tasks involve filling up surveys, installing sponsored apps, watching videos, and subscribing to free trials.
Sites and apps like AdsRepay have flooded the internet during the last 20 years because of their convenience.
Despite the low earning potential, some people prefer doing easy tasks from home instead of enduring a few more hours at a day job.
Is AdsRepay Legit? Does It Pay?
Unlike Swagbucks or InboxDollars AdsRepay is still not featured in important blogs or media outlets. It's still off the radar, and therefore, there are very few reviews on the internet so far.
I couldn't find anything suspicious about it, except the site doesn't mention which company or individual owns it.
However, I am confident that AdsRepay is a legit platform that does pay out!
Even if you are still skeptical, the stakes are not high because you can cash out as little as $1. Therefore, you won't waste too much time in case something goes wrong!
But what could go wrong, you might ask?
Well, many GPT and survey sites have the bad habit of blocking people's accounts for anything suspicious they detect about you.
Even if you follow the rules, they can deny your payment without giving you any explanation!
Here is a snippet from AdsRepay's Terms of Service, which proves my point:
We may terminate or suspend (temporarily or permanently) your account and your right to access our Service immediately, without prior notice or liability, if you materially breach these Terms (such breach to be determined at our sole discretion).
Some platforms will never admit that they are just banning your account to avoid payments. But no one can prove anything because only the company has the information about your account.
How Does AdsRepay Work?
Membership Eligibility
You can join AdsRepay if you are at least 18 years old.
The platform is available in most countries worldwide except the Philippines, Vietnam, Egypt, Venezuela, Namibia, Kenya, Iraq, Iran, and a few others.
Keep in mind most surveys and offers are targeted to residents in the US, UK, Australia, Canada, and Europe.
That is because of heavy investment in marketing campaigns and advertising in those countries.
Registration
You must create a free account before you get access to thousands of opportunities.
Fill up the registration form with your email, username, and password, and you are all set!
Unlike most GPT sites, AdsRepay allows you to create up to 3 accounts in your household. Just be aware that many offers will not accept over one user.
How Much Are Points Worth? 
AdsRepay operates a point-based system where 100 points = 1 USD for those who cash out a minimum of $5.
If you want to cash out $1, then you will need 125 points, meaning you will lose $0.25 per transaction.
How to Earn Points?
There are many ways you can earn points at AdsRepay.
The dashboard has 3 major categories where you can find several third-party platforms.
Surveys
Offers, Tasks & Games
Rewarded videos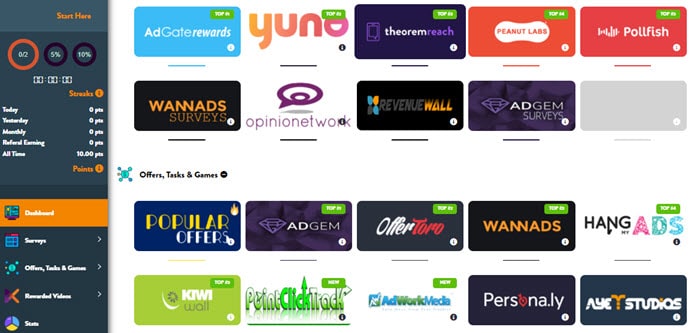 Surveys
In this section, you can take part in online surveys about different topics using the following routers:
AdgateRewards
Yuno
Peanut Labs
Pollfish
Opinionetwork
Revenuewall
Adgem Surveys
Each platform will ask you some profiling questions and direct you to surveys you are more likely to qualify for.
It's a shame that Tap Research and Theorem Reach is not available on the list. I think they are the best routers!
Now, it can be hard to qualify since most surveys are targeted to a specific group of people depending. For example, an IT company may only need the opinions of professionals in this field.
But there is another issue! Many of these marketing research companies screen out panelists after collecting the information they need for 10 or 20 minutes.
The word "frustration" is not enough to describe the feeling when this happens!
To make sure you receive the credits, avoid speeding through questions, and provide truthful answers.
Most surveys take anywhere between 10 to 25 minutes and award less than 100 points ($1).
Offers, Tasks & Games
AdsRepay connects you to 12 ad networks where you can find different offers. These are some of the most common tasks you can complete inside the offer walls:
Install apps.
Play mobile games until you meet specific requirements.
Sign up for websites.
Subscribe to free trials.
Take surveys.
And more!
People who complete offers usually complain that they don't receive the points despite following all the instructions.
There are some reasons the partner may fail to track and credit your offers. For example, your ad blocker is enabled or your blower is not allowing third-party cookies.
AdsRepay recommends that you wait for 7 days. Then, if you don't get your points, you'd better contact the partner's support team.
Rewarded Videos
Another interesting way to earn points with AdsRepay is by watching YouTube, Vimeo, or Twitch videos.
Their internal broadcasting service is called RepayTV, and will give you anywhere between 0.2 and 2 points per video.
Unfortunately, there are very few videos on the platform, so the earning potential is very low.
Streaks
Complete 2 offers or tasks to start your 24-hour streak. Upon completing your first streak task, you will get 5% more.
During the streak, you will get an extra 10% on every task that you complete.
So, if you can, it's better to dedicate a longer period of time to maximize your earnings.
Referral Bonuses
AdsRepay has an affiliate program that pays you 5% of all your referral earnings, plus 2% of their referral's earnings.
In my opinion, it falls very short compared to most reward platforms out there. For example, Prizerebel pays up to 32% commission for diamond members. So, it's way more profitable!
One of the easiest ways to get referrals is by sharing your unique link with friends on social media. You can add your friend as a referral, even if he/she already joined AdsRepay without clicking on your link.
Promo Codes
You can earn extra points by entering promo codes published occasionally on AdsRepay's Facebook or Twitter pages.
How Do You Get Paid? 
One of the key advantages of AdsRepay over most reward sites is the low payout threshold. You can cash out $1 via PayPal or Amazon Gift cards as soon as you collect 125 points.
However, redeeming 125 for $1 means that you will lose $0.25! The reason is that you have the option to redeem 500 points for $5. 
Pros And Cons
Pros
Cash out with as little as $1.
There are lots of offer walls and survey routers.
Get paid via PayPal and Amazon gift cards.
Boost your earnings with streaks.
Cons
Low earning potential.
Disappointing referral program.
There are few opportunities in RepayTV.
Poor exchange rate for $1 payouts.
=========================