A Happy Turtle is an application that rewards you for installing and playing games on your phone or tablet.
How Does A Happy Turtle Work? 
A Happy Turtle is funded by app developers who want more exposure to their mobile games. Therefore, JustDice shares back a portion of its profits with users who take the time to try their offers.
Installation and First Steps
After installing the app on Google Play, the first step is to Sign in with Google, Facebook or email. Next, they require that you provide your age and gender to suggest games that match your profile.
Finally, you must allow usage tracking so that A Happy Turtle detects your playtime and pays you.
You will earn 4444 coins as a welcome bonus, which is worth $0.37.
How to Earn Coins? 
Earning coins with A Happy Turtle is very simple! Browse the list of games, choose the one you like and tap the "Play & Collect" button.
Then, install the game on Google Play and start playing!
It's important to open the game though the section called "My Apps". Otherwise, A Happy Turtle will not track your playtime.
A Happy Turtle will give you a specific number of coins per minute of gameplay. For example, King of Avalon was paying 558 coins per minute.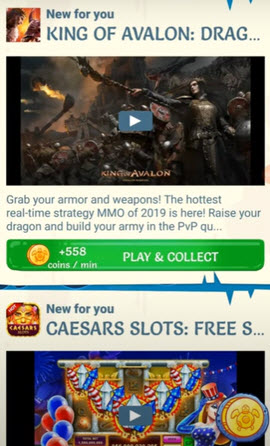 Just be aware that the more you play, the fewer coins you will get.
Unfortunately, the earning rate constantly decreases over time, so you can never estimate how much money you will earn after one or half an hour. But don't expect more than $3 per game!
After a while, the number of coins added becomes too small, and you need to install another game to collect more coins.
Many people get disappointed because they don't earn what they expected. Indeed, the company should be more transparent and warn users about diminishing rewards.
Invite Your Friends
By clicking on the plus button, you can invite friends on Social Media and collect more coins.
You will get 250 coins for every friend that you invite, plus 25% of what all the coins they earn. In turn, the person will also receive 25% of what you earn!
How Do You Get Paid? 
Depending on your country, A Happy Turtle lets you cash out via PayPal and gift cards from major retailers such as Amazon and Zalando.
If you choose PayPal, you can trade as little as 5999 coins for $0.50.
It's essential to know that JustDice will only pay you after submitting a selfie using the app. This is required so that the company can check if the bonus was earned by a real person.
Is A Happy Turtle Legit? Does It Pay? 
Yes, JustDice is a legitimate company, and it does pay out. There is no doubt about it!
I found lots of reviews from users who received the money to PayPal with no issues. Here are some positive testimonials on Google Play: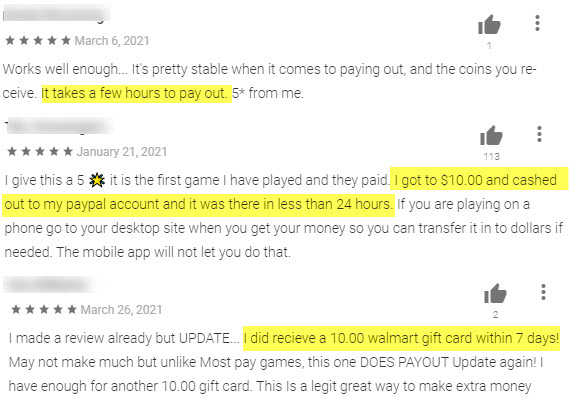 However, not everyone receives the payment. For example, I noticed many users don't get paid because the company does not verify them.
Sometimes, A Happy Turtle doesn't transfer the money, but I believe this is not an error!
The "Terms of Service" page clearly states that the provider does not guarantee the user any winnings. 
This statement contradicts the app description, which promises fast and guaranteed payouts. If they don't want to be called awful names, they should sort this out and play fair.
Pros And Cons
Pros
Earn actual money by playing games.
It pays, but many users are left behind.
Cash out via PayPal and gift cards.
Cons
There are not many games available.
Not everyone gets paid.
You must take a selfie and get verified before you can receive the payment.
Many users don't get verified.
====================